Baltimore's 11-day murder-free streak longest since 2015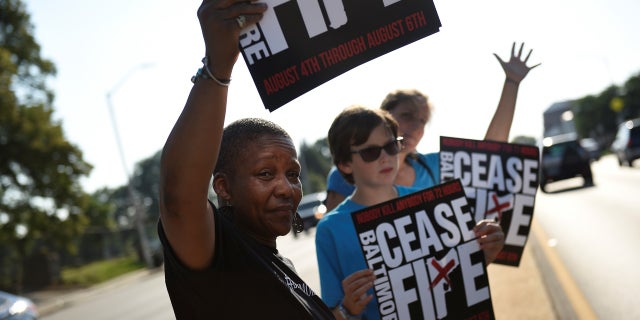 There has not been a recorded murder in Baltimore in nearly two weeks, marking the city's longest streak without a murder since 2015, The Baltimore Sun reported. In 2014, the city went 17 days without a homicide.
Erricka Bridgeford, the Baltimore "ceasefire" organizer, has been credited with being a major catalyst behind the peace, according to the paper.
"It's really exciting," Bridgeford told the paper, noting she can't take full credit for the peace. "Baltimore deserves this boost of love."
The pause in fatalities is a stark contrast to how the city began the year, with 11 killings in the first 12 days, the paper reported. And although there hasn't been a homicide since Feb. 2, there has been five nonfatal shootings -- including three in one day, the paper reported.
Last year, Baltimore recorded the highest annual homicide rate with 343 killings, which factored to about 56 killings per 100,000 people.
No single reason has been attributed for the surge in violence, but rather a combination of factors including, the 2015 death of Freddie Gray -- a black man who died from a spinal cord injury while in police custody -- illegal guns, the fallout from the opioid epidemic or systemic failures.
"Not only is it disheartening, it's painful," Mayor Catherine Pugh told The Associated Press toward the end of 2017, concluding her first year in office.
The Associated Press contributed to this report.