Baltimore tops 100 homicides so far in 2017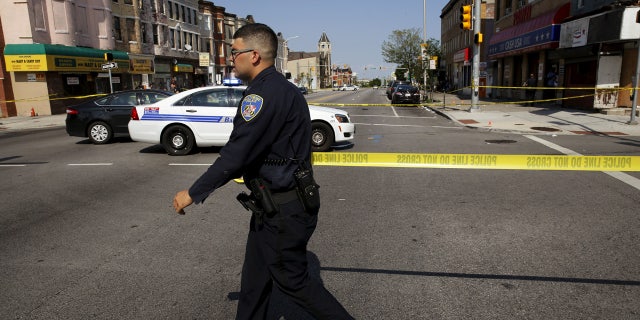 NEWYou can now listen to Fox News articles!
The city of Baltimore has suffered more than 100 homicides before the end of April for the first time in nearly 20 years.
The grim total came after three new murders on Monday, including a fatal shooting near the famed Inner Harbor, the Baltimore Sun reported.
As police were discussing that shooting in the afternoon, another man was shot dead in East Baltimore in the same area as a new senior citizen center that was rebuilt after burning while under construction during riots that hit the city two years ago, the Sun reported. That shooting pushed the total number of homicides in the city for 2017 to 101.
The ongoing violence has not relented since 32 homicides were recorded in January, the most in that month since 2005.
Baltimore has not seen 100 homicides before the end of April since 1998. The violence in Baltimore began to spike in the spring of 2015, following riots prompted by the death of 25-year-old Freddie Gray.
Rev. Donte Hickman, whose Southern Baptist Church built the senior center in East Baltimore, told The Baltimore Sun the city's problems are no longer receiving the attention they did after the riots sparked by Gray's death from injuries he sustained in police custody.
"We have to engage this community or it's going to continue to be a bloodbath," he told the newspaper.
T.J. Smith, chief spokesman for the Baltimore Police Department, told the Sun authorities are "continuing to do everything we can to impact that number so it doesn't continue to grow."
The Associated Press contributed to this report.
Read more from The Baltimore Sun.