Baltimore steam explosion: 5 hurt in blast near Camden Yards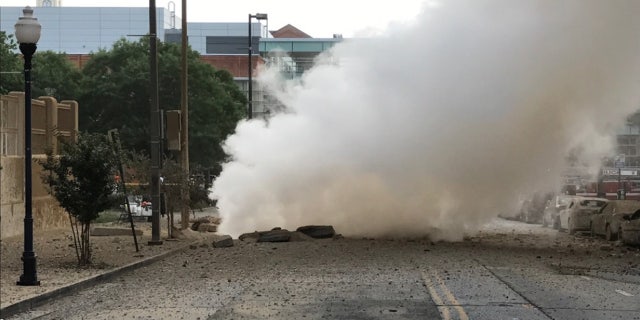 NEWYou can now listen to Fox News articles!
Five people were hurt in a steam pipe explosion in downtown Baltimore near the city's famed Camden Yards baseball stadium Tuesday, buckling the street, shattering windows on cars and buildings, and gushing a plume several stories high for more than an hour.
The explosion on South Eutaw Street between West Lombard and Pratt Streets, near the home of the Baltimore Orioles, shut down nearby streets, FOX 45 Baltimore reported.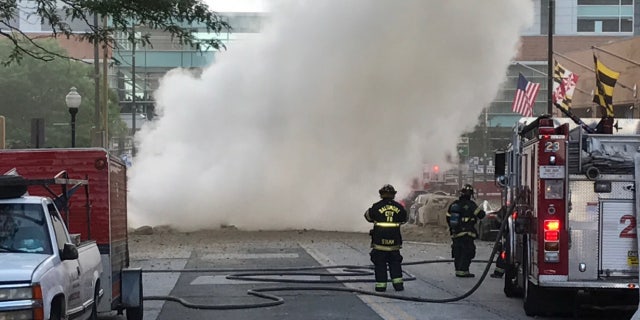 The Baltimore Fire Department said five people suffered non-life threatening injuries.
The blast sent plumes of thick smoke out of a hole in the middle of the street, and debris littered the area and cars parked nearby.
Firefighters sprayed water on one hotel so the facade wouldn't melt.
Hotel guests at the Marriott Camden Yard and Baltimore Inner Harbor Holiday Inn were asked to shelter in place, according to the Baltimore Office of Emergency Management.
The explosion happened just 75 minutes before the start of the Baltimore Orioles game at Oriole Park at Camden Yards about three blocks away. The game started on time.
Baltimore Police Department spokesman T.J. Smith tweeted that nothing criminal was suspected and officers were on the scene to block to streets and direct traffic.
Although the steam had mostly stopped by 7:30 p.m., a dispatcher for Baltimore's Department of Public Works said the site is still too hot for workers to get close enough to inspect the pipes.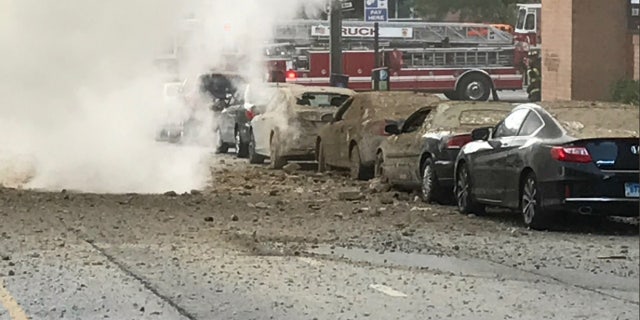 A spokeswoman for BGE, the electric and natural gas utility in central Maryland, says the utility went to the scene at the request of the fire department, but the explosion does not appear to involve any of the company's equipment.
Veolia North America, which operates Baltimore steam pipe network, had emergency crews on the scene and had shut off the steam, fire officials said.
Read more from FOX 45 Baltimore.
The Associated Press contributed to this report.