Bah Humbug: Holiday cheer banned from Minnesota college over 'inclusivity'
The folks in a University of Minnesota department may be getting a lump of coal in their stockings this year for some Holiday guidelines given to students in the name of "inclusivity."
Becket, a nonprofit law firm that defends religious liberty, awarded the university's College of Food, Agricultural and Natural Resource Sciences "Respecting Religious Diversity" event as this year's lowest (dis)honor, the 2017 Ebenezer Award, for the most ridiculous affront to the Christmas and Hanukkah season.
SANTA, CHRISTMAS TREES 'NOT APPROPRIATE' FOR HOLIDAYS, STUDENTS TOLD AT UNIVERSITY EVENT
The event deemed Christmas trees, Menorahs, and the colors red and green and silver and blue as "inappropriate" for college campuses during the holiday season.
The document was a "conversation piece to facilitate dialogue at a voluntary, internal college event on respecting religious diversity in the workplace," university spokesperson Emma Bauer told Fox News.
"It makes little sense to celebrate religious diversity by banning any sense of actual holiday celebration," said Becket Executive Director Montse Alvarado. "And what do they have against color schemes, are we living in communist Cuba?"
'JINGLE BELLS' ROOTED IN RACISM, BOSTON UNIVERSITY PROFESSOR SAYS
Previous winners include the American Humanist Society, who tried to stop schools from sending care packages to children in need, and the Department of Veteran Affairs which banned employees at its Salem, Virginia facility from saying "Merry Christmas" to veterans.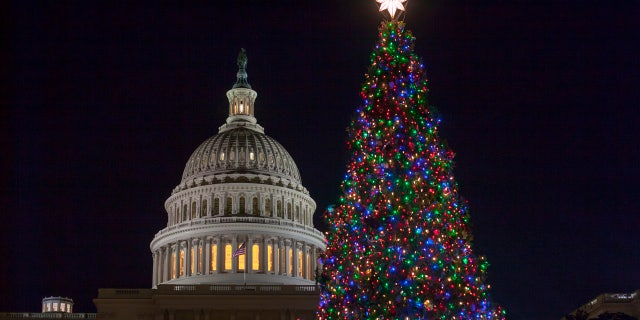 "A hearty bah-humbug toast to university officials who make Christian and Jewish students feel like second class citizens at a time that should be full of brotherly love and giving," said Alvarado.
SNOWFLAKES AT CHRISTMAS? SOME UNIVERSITIES OFFER NO SAFE SPACE FOR SANTA – OR JESUS
Becket points out that the Supreme Court has long upheld government holiday displays that send "a message of pluralism and freedom of belief during the holiday season," including displays that have distinctive religious elements.
Becket believes bureaucrats are to blame for the absurd results.
"Although public opinion and the law are on the side of religious holidays, some bureaucrats insist on scrubbing the public square of any religious references."