Authorities Warn Terrorists Increasingly Eyeing Attacks on Buses Over Other Transit Targets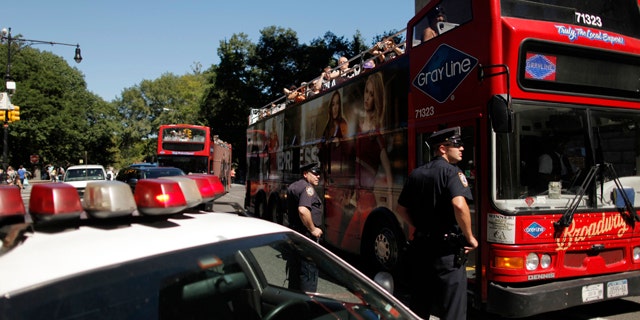 NEWYou can now listen to Fox News articles!
In the lead-up to one of the busiest travel weeks of the year, a new intelligence bulletin obtained by Fox News warns that terrorists have targeted bus networks more than any other mode of surface transportation.
The two page assessment, sent to law enforcement in the nation's capital, says in part, "bus systems are considered attractive terrorist targets because they are relatively soft targets."
Earlier this week, Transportation Security Administration Director John Pistole underscored the threat to reporters in Washington.
"It's something that we've seen in reporting over time that terrorists around the world clearly are interested -- because of the accessibility, the open architecture -- both of buses and rail."
The bulletin, called "Terrorist Concerns Regarding Mass Transit Bus Systems," was sent to law enforcement in the nation's capital on Nov 3. It says bus attacks, similar to an attack by a suicide bomber using an explosive-laden backpack in 2005, are more widespread than attacks on the airline industry. The assessment says over 725 such attacks have been documented from 2004 through 2009.
While improvised explosive devices are common, the feds warn that the Al Qaeda affiliate in Yemen, through its online magazine Inspire, "advocates the use of vehicle ramming attacks against crowds, buildings and other vehicles."
Pistole said the intelligence was sent to local partners to reinforce the view that terrorists are not fixated on aircraft.
"We actually reissued not just bus but mass transit [bulletins], just being cognizant of what goes on around the world as we enter the busy holiday season," he said.
Fox News has also learned that intelligence obtained from Usama bin Laden's compound shows he even considered using buses to attack Americans, by ramming the buses into buildings.
"He always felt that he wanted to leverage his targets," Chuck Pfarrer, author of "Seal Target Geronimo," told Fox News. "Both to use a soft target, one that he had access to, and one that was spectacular because you know terrorism it has to resonate within the world of ideas. It's political theater, and he had a really good grasp of that."
Homeland Security and TSA officials say there is no credible intelligence that terrorist groups have immediate plans to hit the bus network, but the law enforcement bulletins warn of terrorist groups trying to recruit employees or "insiders" who work in the bus, train and airline industry.
Fox News' Mike Levine contributed to this report.
Fox News chief intelligence correspondent Catherine Herridge's bestselling book "The Next Wave: On the Hunt for al Qaeda's American Recruits," published by Crown, draws on her reporting for Fox News into the first American on the CIA's kill or capture list, his new generation of recruits al Qaeda 2.0 and its takes the reader inside the attempt to prosecute the 9/11case.