Authorities say 4 hurt when driver crashes into Calif. Walmart, assaults people in store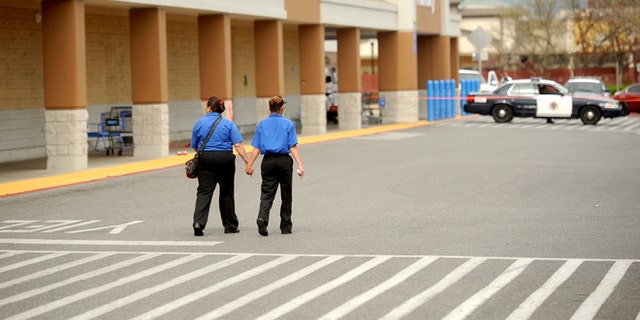 SAN JOSE, Calif. – A man in a large red sedan hit two cars in the parking lot of a San Jose Walmart before ramming the car through the front of the store then assaulting customers inside, officials said. The attack injured four people, one of them seriously.
The man crashed the Oldsmobile Cutlass through the storefront near the pharmacy Sunday and collided with a beer display before stopping, police and witnesses said.
The unidentified driver then got out of his car and used a blunt object to attack people, San Jose police Officer Albert Morales said. The driver was arrested when officers arrived.
Investigators have not determined how fast the driver -- described as a man in his 30s -- was going at the time of the crash but the car went about 20 feet into the Walmart Supercenter that had about 70 people inside in San Jose, Morales said.
One person suffered what Morales described as serious injuries. He did not know the extent of the injuries to the three other people but said they were not life-threatening. The injured included a store employee.
There was no immediate word about what motivated the suspect.
Customer Sharon Kaye told the San Jose Mercury News the driver sideswiped her car as he made several runs around the parking lot before driving between poles at the entrance and crashing into the store.
"At first, I thought I may have done something to anger him while driving," she said. "But then I realized he was out to get into the store."
After the crash, the entrance to the Walmart was roped off with yellow police tape, and workers put up large boards covering the automatic doors where the car had entered.
A Walmart spokeswoman told the Mercury News that the store remained shut down for several hours, and an employee was among those hurt.
"We're obviously very concerned about the associate who was injured," spokeswoman Kory Lundberg said.
Shopper and witness Tianna Doan told the newspaper the employee was a cashier who was hit with the object and had a head injury.
Calls to the store by The Associated Press went unanswered Sunday.