Authorities investigating whether bones found belong to missing Maine students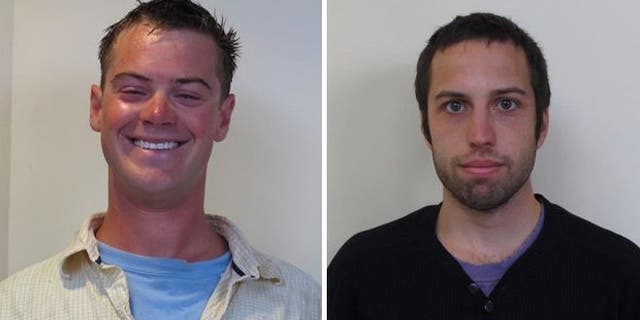 NEWYou can now listen to Fox News articles!
Authorities are investigating whether bones found on an island in Maine belong to two boat-building students who vanished in December.
Zachary Wells, 21, of Burlington, Vt., and Prescott Wright, 23, of Barnstable, Mass., were last seen at Wells' home on Dec. 19 in Cape Porpoise.
The bones -- identified as human remains, according to the Kennebunkport Police Department -- were found Sunday afternoon on nearby Vaughn Island.
Kennebunkport Chief of Police Craig Sanford told FoxNews.com Tuesday that the remains will be identified pending the release of DNA testing being conducted by Maine's Medical Examiner Office.
"We may not have the results for several days," Mark Belserene, administrator at the Office of the Chief Medical Examiner, told FoxNews.com in an email.
A resident walking a dog found the bones, the Kennebec Journal reports.
On the night of their disappearance, Wells and Wright were drinking inside the home. When a roommate went downstairs to turn off a radio at 4 a.m., he noticed both of them missing.
Administrators at the Landing School, where Wells and Wright were students, called police after both men did not show up for class in the following days.
"These are two students without a history of disappearing or unexplained absences," Robert DeColfmacker, president of the Landing School, told the Portland Press Herald, adding that Wells and Wright left their cellphones and wallets at the home.
On Christmas Eve, authorities found two pairs of jeans, a jacket, a sweatshirt, footwear and two life jackets on Goat Island – all of which possibly belonged to the students – the Kennebec Journal reports. Goat Island is less than a mile from where the bones were found.
Police believe the students may have been boating or kayaking before the belongings were found on the island, the Associated Press reports.
Families of Wells and Wright held memorial services for them at the Landing School on Jan. 12.