Authorities: Colorado officers were briefly held hostage before suspect was fatally shot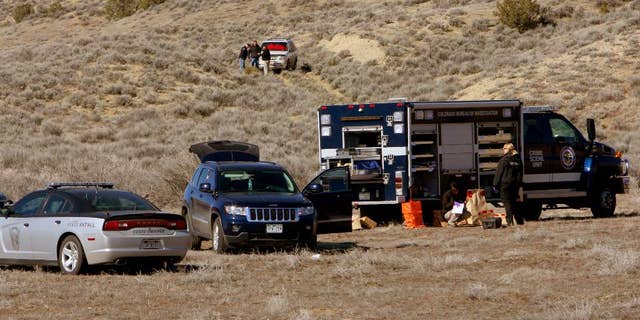 DENVER – A Colorado sheriff's deputy and a state wildlife officer were held hostage by a man and a woman before a struggle erupted and the man was fatally shot, authorities said.
Neither the deputy nor the wildlife officer was injured in the confrontation Monday near the small town of Dinosaur in northwestern Colorado, about 10 miles from the Utah border.
The woman was taken to a hospital for an undisclosed medical condition and then transferred to the Moffat County jail. The woman's condition wasn't directly related to the shooting, Sheriff KC Hume told the Craig Daily Press.
Moffat County Deputy Brent Shock and Colorado Parks and Wildlife District Wildlife Manager Nathan Martinez were checking on a suspicious vehicle parked off a highway Monday afternoon when they were briefly taken hostage by the man and woman, the district attorney's office said in a news release.
Authorities haven't said who fired at the man when the fight broke out. His name hasn't been released.
Authorities identified the woman as Georgie Hand, 43. She had not been charged in the Monday incident, and jail officials said they did not know whether she had an attorney who could comment on her behalf.
Hand is wanted in Chaffee County on charges of identity theft, felony theft of at least $20,000, trespassing, criminal mischief and other crimes allegedly committed in January, court records show. Chaffee County authorities issued a warrant for her arrest on Feb. 11.
Hand is also wanted in Wasatch County, Utah, on charges of burglary, theft and forgery, according to court records there. Hand and another person were accused of using stolen checks and a stolen credit card to make thousands of dollars of purchases at Wal-Mart and elsewhere in December.
Shock and Martinez have been placed on administrative leave, a standard practice after an officer-involved shooting. The district attorney's critical incident response team was investigating.
It is common for the sheriff's department to jointly patrol the 4,800-square-mile county with officers from Parks and Wildlife and other agencies, authorities said.
___
Associated Press writer Sadie Gurman contributed to this report.