Australia seeks soldier's skull held at Philadelphia museum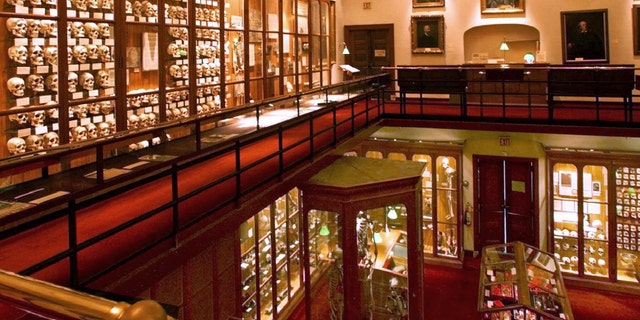 PHILADELPHIA – An Australian politician is pushing for a Philadelphia medical museum to return the skull of an unknown Australian soldier who was shot in World War I and died days later.
Lynda Voltz, a member of the Australian Labor Party and a minister for veterans' affairs, said having the soldier's remains at the Mutter Museum is a travesty. She said in a Facebook post on Friday she plans to talk to the U.S. consul general when she returns from Belgium, where she attended a World War I centenary remembrance.
"The U.S. government needs to take a good hard look at this case — and help us restore dignity and honor to a fallen ally, as soon as possible," she wrote.
A message seeking additional comment from her wasn't immediately returned Friday.
The skull hasn't been on display for a long time, museum spokeswoman Gillian Ladley said. It had been part of the museum's online interactive site but has since been removed.
The museum is in talks with the Australian Army about the skull, but Ladley couldn't say where those talks stood or whether the skull will be returned.
The controversy was first reported on Monday by The Guardian newspaper, which included the museum's online description of the soldier's death.
The soldier was wounded at the Battle of Polygon Wood, near Ypres, Belgium, on Sep. 28, 1917, but he survived his injuries, including those from a bullet that is lodged and still visible near the left eye socket.
The soldier was treated by a Philadelphia ophthalmologist in France. However, disoriented five days after he was wounded, he pulled off his bandages and bled to death, the text said.
It's unclear how the museum obtained the skull, but Ladley said the museum doesn't have the rest of the soldier's remains.
Voltz said she wants the remains returned to Australia or buried with the soldier's comrades at Belgium's Polygon Wood Cemetery.
The museum hasn't received requests to return specimens other than those related to the Native American Graves and Protection and Repatriation Act, and it has always complied with those requests, Ladley said.
"This is being treated with the highest regard to protocol and precedent for such specimens," the museum said in a statement this week.
The Mutter is known around the world for its collection of organs preserved in jars, deformed skeletons and lifelike wax casts of shocking medical maladies. It was founded in 1863 by The College of Physicians, which still operates it.
The stated mission of the museum is to help the public "understand the mysteries and beauty of the human body and to appreciate the history of diagnosis and treatment of disease."
Exhibits include an 8-foot-long (2.4-meter-long) human megacolon, the body of a woman who essentially turned to soap and slides of Albert Einstein's brain.