Man charged with capital murder in shooting death of Texas girl, 7, police say
A man was arrested late Saturday in the shooting death of 7-year-old Jazmine Barnes, who was killed in a drive-by shooting while sitting in the backseat of her mother's car in Houston last month, police said.
Eric Black Jr., 20, was charged with capital murder following the deadly shooting on Dec. 30, Harris County Sheriff's Office announced in a news release Sunday. Black, who investigators identified as a suspect based on a tip, reportedly admitted to "taking part in the shooting."
Investigators said at a news conference Sunday afternoon they believe the shooting was a case of mistaken identity.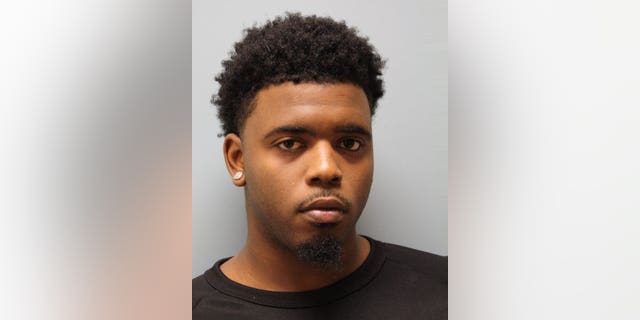 "All evidence gathered so far in the Jazmine Barnes Homicide case supports investigators' strong belief that she and her family were innocent victims," the sheriff's office tweeted early Sunday.
CLICK HERE TO GET THE FOX NEWS APP
Sheriff Ed Gonzalez said in a statement that he is "grateful to our dedicated investigators, the partner law enforcement agencies that provided vital assistance, and tipsters from across the nation who pulled together to support our work to get justice for Jazmine."
Moments after police announced Black's arrest, Barnes' family lawyer, Lee Merritt, wrote in an Instagram post that a second suspect, Larry Woodruffe, 24, was arrested in the deadly shooting. Woodruffe is believed to be the shooter in the incident, according to Merritt.
The sheriff's office would not confirm any other suspects, but said they believe charges could still be filed in this case.
Jazmine Barnes was leaving a Walmart parking lot in northeast Houston with her mother, 30-year-old LaPorsha Washington, and her three sisters, when a man driving a red pickup truck pulled up next to their vehicle and started shooting at around 7 a.m. on Dec. 30, police said. Gonzalez later stated they don't believe whoever was in the red truck was involved in the shooting.
"I didn't see anything but shattered glass and bullets coming toward my car," Washington, who also suffered a gunshot wound to the arm, told The Associated Press earlier this week.
TEXANS STAR DEANDRE HOPKINS PLEDGES PLAYOFF CHECK TO FAMILY OF GIRL, 7, SHOT DEAD IN HOUSTON DRIVE-BY
Washington told FOX26 she was praying for her daughter's killer to be arrested.
"I'm praying that the phone rings right now as you're in here filming us. That's how much I want him caught, like any second," the grieving mother said.
Police released a sketch of a possible suspect last week and described the individual as a bearded white man.
Although witness descriptions of a white man in his forties at the scene prompted hate crime speculation and led civil rights activist Shaun King to offer a substantial reward for the killer or killers, at least one of the suspects currently in custody is African-American.
Prior to the arrests, Merritt said, "We do believe that it [the murder] was racially motivated in part because our nation at this moment is highly racially charged."
Community activist Deric Muhammad linked Jazmine's murder with another murder of two African-Americans in Houston on Aug. 30, 2017.
"It's apparent black people are under attack in this particular part of the city," Muhammad said.
The girl's death sparked an outpouring of concern from around the nation. Retired professional basketball star Shaquille O'Neal and veteran Houston Police Officer Kenneth Miles recently said they would pay for the girl's funeral.
Miles told FOX 26 that he was with O'Neal when he first heard about Jazmine's death.
"He and I talked about the thought of losing one of our children and instantly it touched our hearts," Miles said, recalling his conversation with O'Neal. "He actually suggested we come up with something that could lighten the burden, that could help the family out. He and I decided to split the cost of the funeral services."
Houston Texans star DeAndre Hopkins said Thursday he would dedicate his playoff check to help the Barnes' family with the funeral costs.
Fox News' Travis Fedschun and Nicole Darrah and The Associated Press contributed to this report.