At least 5 police officers injured during protests in Minnesota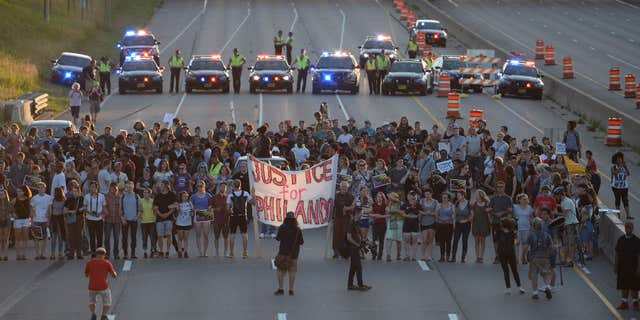 Police in Minnesota said Sunday they arrested as many as 100 people after a protest over police shootings turned violent, with at least five officers injured.
Police used smoke bombs to clear demonstrators blocking Interstate 94, the Minneapolis Star-Tribune reported. Police said officers were hurt after some protesters hurled rocks, firecrackers and at least one Molotov cocktail at them.
According to Fox 9, protesters also threw bricks, glass bottles and construction rebar at the officers.
About 200 protesters refused to leave the interstate just after midnight as police in riot gear began to move in on the crowd.
The interstate reopened at about 1:30 a.m., according to Fox 9.
The protest, which started with a march from the governor's mansion around 8 p.m., was among several demonstrations nationwide following the deaths of 32-year-old Philano Castile, who was shot during a traffic stop allegedly while reaching for his wallet, and 37-year-old Alton Sterling in Baton Rouge, Louisiana. Sterling, who was also black, was shot after a scuffle with officers outside a convenience store.
Mike Martin was at the protest with a guitar strapped to his back trying to promote peace. However, he told the Associated Press than a police officer pepper sprayed him. He said he was trying to move the crowd along and keep the peace.
"I guess I wasn't moving fast enough for him," said Martin, who estimated the officer was six feet away and sprayed without warning. "He just got it out and bam, I saw a cloud. It's burning pretty bad."
Tyree Johnson, who said he was Castile's cousin, said officers on the highway fired pellets and gas in his direction.
Misty Macon, 20, of St. Paul, said the protest was mostly peaceful, even as at least one protester aimed a firework at an officer. She said she saw about 30 people being peacefully taken away by officers, who said they warned protesters they would be subject to arrest if they didn't disassemble.
The night after Castile was killed, five police officers were fatally shot and others were wounded during protests in Dallas. Authorities identified the Dallas shooter as an Army veteran who was later killed by police.
Sterling's and Castile's families denounced the attack on the Dallas officers.
The Associated Press contributed to this report.