Dayton, Ohio, shooting that left 9 dead, 27 hurt halted 'in under a minute' by cops who shot suspect: mayor
Nine people were killed and dozens were hurt when a suspect wearing body armor opened fire outside a bar in Dayton, Ohio, early Sunday before responding officers shot the armed assailant to death less than a minute into the rampage, according to officials.
It was the nation's second mass shooting in less than 24 hours after at least 20 people were slain in El Paso, Texas.
The Dayton Police Department said on Twitter the incident unfolded at 1 a.m. in the city's Oregon District near downtown, but officers were nearby and "were able to respond and put an end to it quickly."
EL PASO MAYOR DEE MARGO 'GEARING UP FOR 20 FUNERALS,' WANTS TO 'BRING OUR CITY TOGETHER'
Dayton Mayor Nan Whaley said at a Sunday morning news conference the shooter was wearing body armor and had extra magazines. The Oregon District was filled with "thousands" of people out on a weekend night at the time, according to Whaley. Officers were also stationed in the neighborhood and were able to halt the rampage less than a minute after it began, the mayor added.
"If Dayton police had not gotten to the shooter in under a minute -- and figure that 26 injured, 9 dead -- hundreds of people in the Oregon District could be dead today," Whaley told reporters.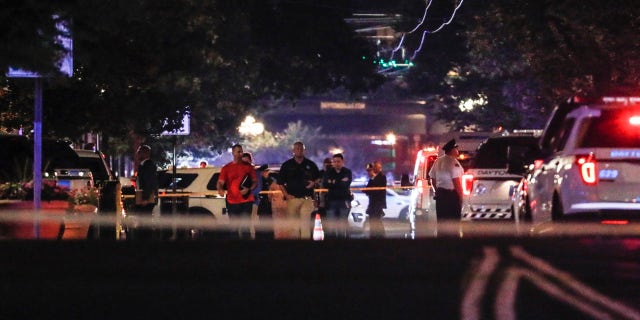 Whaley said at a later news conference that at least 27 people have been treated for injuries. Local hospital representatives said the injuries included gunshot wounds and lacerations, and that 15 of the wounded have been released, while several people remain in serious or critical condition.
Whaley said the shooter was carrying a .223-caliber rifle and had additional high-capacity magazines with him.
Lt. Col. Matt Carper said at the suspect was shot to death by responding officers.
"This is extremely unusual, obviously, for any community, let alone Dayton," Carper told reporters. "In our Oregon District, this is unheard of."
The Oregon District is a historic neighborhood that Carper described as "a safe part of downtown," home to entertainment options, including bars, restaurants, and theaters. The shooting took place outside, on the 400-block of East 5th Street. All of the fatalities were reported outside, according to police.
Witnesses said they saw a number of "walking wounded" in the area, according to local media reports. Tianycia Leonard, 28, told the Associated Press she was out back, smoking, at Newcom's when heard "loud thumps" that she initially thought was people pounding on a dumpster.
"It was so noisy, but then you could tell it was gunshots and there was a lot of rounds," Leonard said.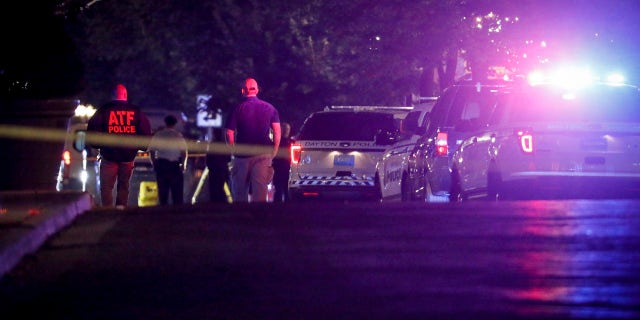 Kettering Health Network spokesperson Elizabeth Long told Fox News the health network received 13 patients at four of their hospitals.
One of their hospitals received 9 patients with gunshot wounds, seven that arrived by ambulance and two who walked in. Two were in surgery, with one listed in critical condition.
Long told Fox News that most of the gunshot wounds were lower extremities, while one person had a gunshot wound to the lower abdomen.
One newspaper reporter told a local radio station that abandoned shoes were seen in the area of the shooting -- left behind as panicking people fled. Police tape could be seen on Sunday morning near a pile of shoes outside the bar where the gunfire erupted.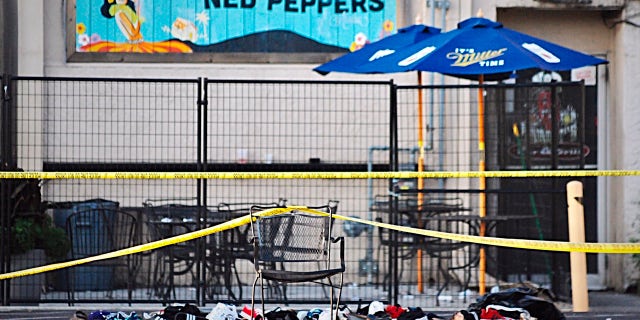 Investigators haven't named the shooter or shared any other information about a motive. Dayton police said have identified the shooter, but are investigating further before they release any additional information.
Authorities descended on neighborhood in Bellbrook, located about 16 miles south of the shooting scene, as they executed a search warrant in connection to the deadly shooting, WKEF/WRGT reported. Bellbrook Police Chief Doug Doherty told the television station the search was to "obtain information tied to the shooting in Dayton."
None of the victims have been identified as of Sunday morning. Whaley said a community vigil is planned for 8 p.m. Sunday.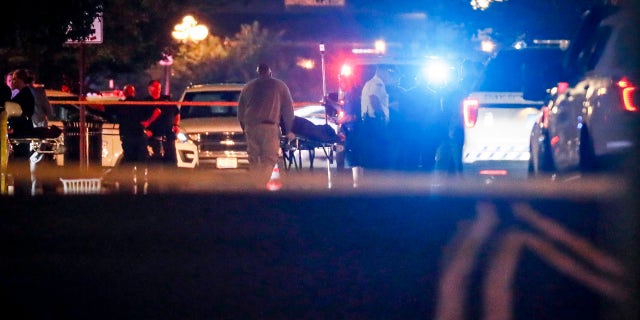 The shooting in Dayton came after the area was heavily damaged when tornadoes swept through western Ohio in late May, destroying or damaging hundreds of homes and businesses.
"Dayton has been through a lot already this year, and I continue to be amazed by the grit and resiliency of our community," Whaley said.
Rep. Mike Turner, R-Ohio, said on Twitter that his daughter and a family friend had entered the Tumbleweed Connection when the shooting began "across the street."
"Both reported of the visible @DaytonPolice presence before the shooting and the bravery they witnessed as officers ran toward the gun shots," Turner said, adding in a subsequent tweet "My daughter & friend fled into #OregonDistrict & contacted me at 2am. As they ran home, I followed their progress & prayed for them & our community. Thank you to @DaytonPolice for their bravery in stopping this evil."
The FBI is assisting with the investigation, Dayton police said. A family assistance center was set up at the Dayton Convention Center.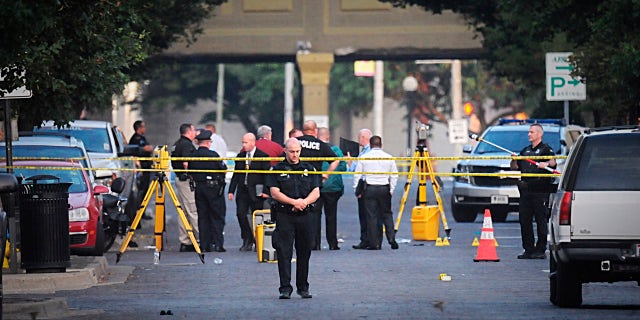 "I'm heartbroken," Whaley tweeted around 6 a.m. Sunday. "Thank you to our first responders for all that you've done."
Ohio Gov. Mike DeWine said he was "absolutely heartbroken" over the Dayton shooting.
"I commend Dayton Police and other first responders for their bravery and quick response to save lives and bring an end to this tragedy," the governor said in a statement.
DeWine said he spoke with Dayton's mayor and offered any assistance on behalf of the state.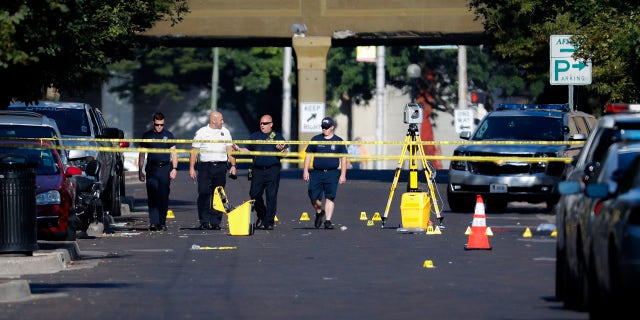 "I have been briefed by the Ohio Department of Public Safety, and the Ohio State Highway Patrol has offered assistance to local law enforcement as they investigate this heinous act," DeWine said, in part. "I have ordered that flags in Ohio remain at half-mast in honor and memory of the victims who lost their lives this morning."
President Trump said Sunday morning that FBI, local and state law enforcement are working together in El Paso and in Dayton, Ohio.
"Information is rapidly being accumulated in Dayton. Much has already be learned in El Paso," the president tweeted. "Law enforcement was very rapid in both instances. Updates will be given throughout the day!"
"God bless the people of El Paso Texas," the president said in a subsequent tweet. "God bless the people of Dayton, Ohio."
CLICK HERE TO GET THE FOX NEWS APP
Ned Peppers Bar posted a message on Instagram, saying: "All of our staff is safe and our hearts go out to everyone involved as we gather information."
In a statement later posted to Facebook, the car said the shooter started down the road and "made his way towards our business."
"We have police regularly staffed next to our business who engaged the shooter and neutralized the threat," the bar said. "Dayton Police could not have done a better job responding to this senseless act of violence. We cannot commend them high enough. We are assisting them still in every way we can in their investigation."
Nikita Papillon, 23, told the AP she was across the street at Newcom's Tavern when the shooting started. Papillon said she saw a girl she had talked to earlier lying outside Ned Peppers Bar after the rampage ended.
"She had told me she liked my outfit and thought I was cute, and I told her I liked her outfit and I thought she was cute," she the AP, adding that she had been to Ned Peppers the night before. Papillon described it as the kind of place "where you don't have to worry about someone shooting up the place."
"People my age, we don't think something like this is going to happen," she told the AP. "And when it happens, words can't describe it."
Fox News' Lauren Blanchard and The Associated Press contributed to this report.