At least 1 reportedly dead, 3 missing after trains collide in Oklahoma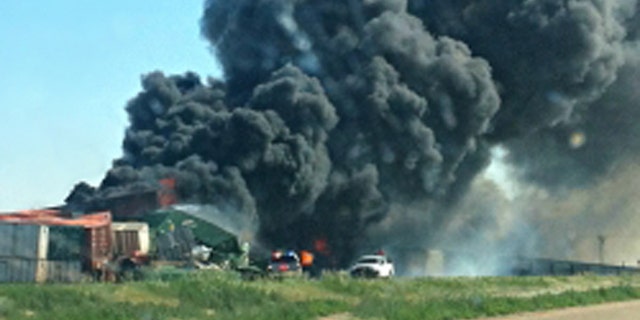 NEWYou can now listen to Fox News articles!
GOODWELL, Okla. – Authorities says at least one is dead and three crewmembers are missing after two trains collided in the Oklahoma Panhandle.
The identity of the the person who was killed has not been released, News 9 reports.
An eastbound train carrying vehicles and a westbound train crashed about 10:08 a.m. Sunday near Goodwell, Union Pacific regional spokeswoman Raquel Espinoza said. A two-person crew was aboard each train, and officials were unable to account for two engineers and a conductor, Espinoza said.
The other conductor appeared to be uninjured, and officials were interviewing him about what happened, she said.
"He's shaken up about the situation, and we are working to make sure that he receives any care that he needs. We're doing everything we can to find the rest of the crew," Espinoza said.
The westbound train had three locomotives and 80 railcars that were carrying motor vehicles, she said. Two of that train's locomotives and a locomotive from the eastbound train caught fire after the collision, she said.
One train was hauling a resin solution, but Espinoza said that load wasn't on fire and was doused with water as a precaution.
Firefighters were working to extinguish the blaze, which was burning in a sparsely populated area of the county, Texas County Emergency Management Director Harold Tyson said. No evacuations have been ordered, he said.
"It's still burning. I'm afraid we're going to be here for a while," Tyson said.
Firefighters were struggling to stay hydrated as temperatures climbed past 100 degrees, but no injuries to emergency workers had been reported, Tyson said.
The Associated Press contributed to this report.