As vehicle attacks rise, major cities boost security measures to protect pedestrians
Over 4-miles long and teeming with thousands of tourists, Las Vegas, and other metropolitan areas like it, are vulnerable to any number of events in which a car might come up on the sidewalk, inadvertently or purposefully, injuring or even killing unwitting pedestrians.
Now the Strip in Sin City is undergoing a ground-level cosmetic shift as the Clark County Commission is planning to vote in the coming weeks on installing 500 additional safety posts. About 800 of the posts, also known as bollards, currently dot the Strip. The commission hopes to have 7,000 of the posts installed by the end of 2018 in an effort to increase safety among pedestrians.
"We want to keep the cars off the same level as the pedestrians are walking on, that's ultimately the goal…With everything that's happening right now, we thought it was the appropriate time," said Clark County Commission Chairman Steve Sisolak.
The bollards are anchored underneath the ground and stand 4 feet tall. The posts are not going anywhere. Solid and durable, it can stop a flatbed truck speeding at 55 miles per hour.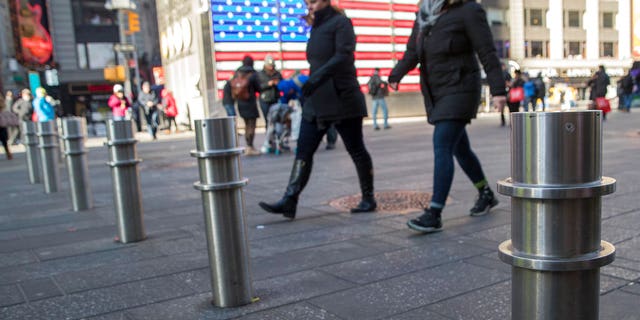 Vehicles are becoming the weapon of choice for terrorists – and cities in the U.S., and across the globe, are struggling to figure out the best way to protect pedestrians. Large international cities have seen their fair share of such vehicle attacks in recent years, such as Nice, France, Berlin, Barcelona, and London and, most recently, Melbourne, Australia.
Vegas had its own similar incident in late 2015 when 24-year-old Lakeisha Holloway plowed into a crowd of pedestrians in the middle of the Strip, killing a mother of three.
Sisolak said safety posts are meant to protect against any type of vehicular threat, not just those with terror motives or cases in which drivers have a history of mental health issues.
"We've had a lot of medical episodes where people actually lost control of their vehicle or somebody passes out, has a stroke or heart attack, whatever it might be, go on the sidewalk mistakenly," Sisolak said. "Well, this would prevent that from happening."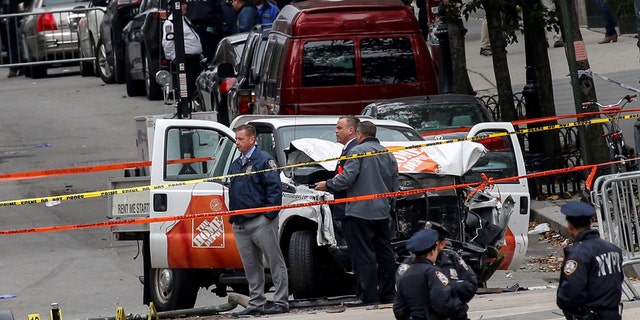 Other cities across the country are following suit. New York City Mayor Bill de Blasio announced on Tuesday that the city's Security Infrastructure Working Group is planning to spend upwards of $50 million to bring 1,500 new bollards to the city along with installing permanent ones in Times Square. This comes as New York suffered its worst terror attack since 9/11 on Halloween of last year when a driver plowed a U-Haul truck into pedestrians and bikers on the West Side Highway, killing 8 people.
"We understand what's happened around the world and we even saw some tragedies here…We know we have to do even more to keep people safe," de Blasio said.
Las Vegas security and emergency response expert, David Shepherd, said strategies need to evolve as the threat evolves. Planning with safety posts mitigates the problem before tragic events can happen
"It's no different here [in Vegas] than in any other city," Shepherd said, "it's how to protect the people on the streets."