As Hurricane Florence barrels toward coastal Carolina, rural, poor communities brace themselves
NEWYou can now listen to Fox News articles!
Heavy rains from Hurricane Florence could cause an environmental disaster in parts of rural Virginia, South Carolina and North Carolina where waste from hog manure pits and coal ash dumps could threaten drinking water supplies for months and wash into homes.
Florence, a powerful Category 4 storm, is expected to affect millions of people in the Carolinas and in parts of the Mid-Atlantic states. Fox News Senior Meteorologist Janice Dean warns it could become "a major flooding event," while Jeff Byard, an associate administrator at FEMA, warned the ferocious storm "is going to be a Mike Tyson punch to the Carolina coast."
Latest weather models forecast more than 3 feet of rain in the eastern part of the state.
HURRICANE FLORENCE'S PATH: TRACK THE STORM HERE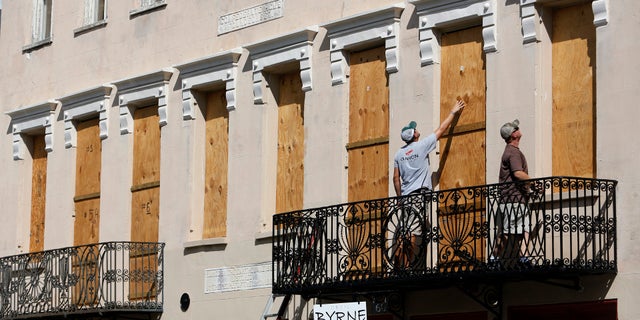 Early figures from data provider CoreLogic indicate nearly 759,000 homes across the Carolinas and Virginia lie in the path of the storm surge. If the monster hurricane rolls ashore as it is predicted to do, the company forecasts reconstruction costs at more than $170 billion.
"Sewage and waste can also contaminate groundwater, affecting the well water that many rural communities depend on for their drinking water supplies," CoreLogic said. "Coal ash ponds can (and do) also leak toxic containments."
The last time a significant storm slammed into North Carolina was in September 1999. Rural residents say they still remember the aftermath of Hurricane Floyd, which drenched an already-soaked region with 2 feet of water.
What happened next was one of the worst natural disasters in the state's history with memories that still haunt residents.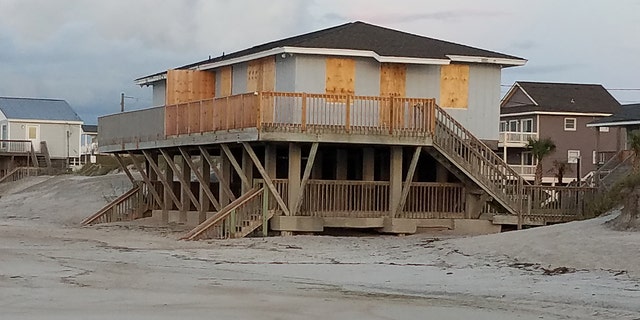 'EXTREMELY DANGEROUS' HURRICANE FLORENCE TO BE A 'MIKE TYSON PUNCH TO CAROLINA COAST'
"My grandfather's farm was swept away," Erin Lohr told Fox News. "When we came back after the storm, everything was destroyed. It was one of the most devastating times in our family's lives."
When Floyd roared ashore as a Category 2 storm, entire towns were under water. Bloated and bobbing carcasses of hundreds of thousands of chickens and hogs mixed in with the stench of fertilizer, bile and gasoline made it near impossible for rescue workers to do their jobs and residents to get back to their homes.
"It was disgusting," Lohr said.
U.S. Secretary of Agriculture Sonny Perdue said Wednesday that the government has programs in place to help rural communities, farmers, ranchers and other small businesses hit by Florence.
HURRICANE FLORENCE'S POTENTIALLY CATASTROPHIC PATH INCLUDES 'AT-RISK' NUCLEAR POWER PLANTS
"If we know anything about American farmers, it's that they can handle adversity," he said in a statement. "Even so, USDA is ready to help with the resources they need to be able to weather storms and recover from damages. As hurricanes approach, we have USDA personnel in every county in the nation, standing by to assist in any possible way."
Florence's predicted path also means trouble for some of the poorest communities in eastern North Carolina and South Carolina, said Susan Cutter, director of the Hazards and Vulnerability Research Institute at the University of South Carolina. Dozens of poor black communities like Princeville across the region will have a harder time coping with Florence "partly because of the historic inequality that was there," she said.
PICTURES: PREPARATIONS FOR HURRICANE FLORENCE
"What I'm fearful about is there are a lot of people who are not going to be OK because they don't have elevated structures," she added. "They're in low-lying flood prone areas and they didn't leave because they had nowhere to go and no resources to get there."
Princeville, the first U.S. town built by freed slaves, was swamped by Floyd.
HURRICANE FLORENCE COULD BRING CATASTROPHIC STORM SURGES: WHAT ARE THEY, AND HOW CAN YOU PREPARE?
A levee built after the storm failed to protect the town from Hurricane Matthew's floodwaters two years ago. Homes were swept away or severely damaged. The Town Hall and local elementary school have yet to be rebuilt.
Like his hometown of Princeville, Antonio Draughn is still recovering from Matthew. His biggest fear, he told WRAL, is losing his sense of home – again.
"(I don't like) not having a home to come back to, showing my kids where I used to play and things like that," he said.
The Associated Press contributed to this report.