Artificial reef in Florida will honor lost US submarines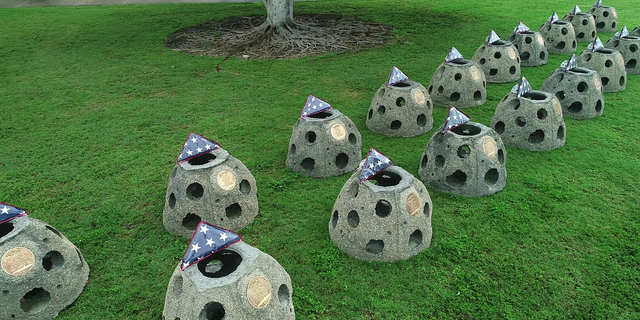 NEWYou can now listen to Fox News articles!
SARASOTA, Fla. – An undersea monument off Florida's Gulf Coast will honor more than 4,000 officers and crew members who have died while serving aboard American military submarines since 1900.
The On Eternal Patrol Memorial Reef will be installed on the ocean floor about 9 miles (15 kilometers) from Sarasota.
The artificial reef will consist of 65 balls, each bearing a plaque identifying a submarine lost while on duty. One additional ball will represent crews and submarines lost in non-sinking incidents. Each ball weighs 1,300 pounds (590 kilograms) and stands 3 feet (1 meter) tall.
Subtropical Storm Alberto's crossing of the Gulf of Mexico delayed the installation of the first ball Monday. In a ceremony Sunday, buglers played taps and a military honor guard presented American flags to representatives for each lost submarine.