Arrests made after some 'March 4 Trump' rallies turn violent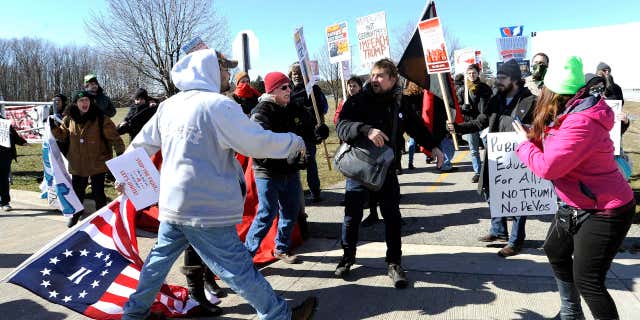 Arrests were made in some spots across the U.S. as hundreds of people railed in support President Trump Saturday.
Demonstrators from Colorado's state capitol to Trump Tower in New York and the Washington Monument were seen carrying life-size cardboard cutouts of Trump as well as waving "Deplorables for Trump" signs.
However, not every rally went off without a hitch.
Police in Berkeley, Calif. said 10 people were arrested after Trump supporters and counter-protesters clashed during a rally that turned violent and left seven injured. None of the injured was hospitalized.
Meanwhile, six people protesting the rally in St. Paul, Minn. were arrested on felony riot charges after they lit fireworks inside the Minnesota State Capitol and fled, police said. About 400 people attended the event, and about 50 people showed up to protest it.
In Nashville, two people were arrested as protesters clashed with Trump supporters at the Tennessee Capitol. In Olympia, Wash., state police said four demonstrators were arrested at a support of Trump rally, KOMO-TV reported. The station reported that the demonstrators are accused of assaulting a police officer.
Near Mar-a-Lago, the Palm Beach Post reported that people on both sides exchanged profanity. Trump's motorcade briefly stopped so he could wave at supporters.
In Ohio, Trump supporter Margaret Howe, 57, of Pataskala, said she increasingly fears civil war.
"We did not want to have something like this happen," she said, adding, "We came out today because Trump deserves to see he still has people for him. It's just all sad."
A group of counter protesters gathered nearby, separated from the rally by police tape. They chanted "No Trump. No KKK. No fascist USA" and held signs with messages like "Your vote was a hate crime."
In other parts of the country, rallies were relatively peaceful.
In northwestern Pennsylvania, the Erie Times-News reported that about 100 people gathered at a square in downtown Erie for a similar demonstration. "We've got to get the whole country united behind this man," said Richard Brozell, 75, who along with his wife braved the mid-20s temperatures and stiff wind chill to attend
In Augusta, Maine, more than 100 people turned out for the event that was supposed to last three hours, but ended early because of freezing temperatures.
In Miami, supporters continued a rally while sipping espressos outside a Cuban restaurant, the Miami Herald reported.
At a North Carolina rally, speakers said the dishonest media and left wing politicians were bordering on sedition in their opposition to the Republican president. Some men were seen walking through the Raleigh crowd carrying a Trump flag as well as a Confederate flag. Gathered just behind the rally was a handful of protesters, some of whom blew air horns in an attempt to disrupt the event.
In Indianapolis, about 30 Trump supporters rallied at the Indiana Statehouse in Indianapolis to denounce what they see as unfair treatment of the Republican. A local organizer, 61-year-old Patty Collins, of Indianapolis, said Trump's critics "aren't giving him a chance."
Trump supporters turned out Saturday in Phoenix. Media outlets reported that several hundred people participated in the Phoenix event held on a lawn at the State Capitol.
In Texas, Austin police say about 300 people rallied in support of Trump in a gathering outside the Capitol during rain. Organizer Jennifer Drabbant said there have been so many protests against Trump that she and others wanted to show there are people who support him.
Scores of people have rallied in Virginia Beach, Virginia, in a show of support for Trump. The Virginian-Pilot reports around 200 Trump backers showed up Saturday for the event at a park. Some held American flags and others wore "Make America Great Again" hats and Trump T-shirts.
In Lansing, Michigan, about 200 Trump supporters rallied on one side of the state Capitol while 100 critics gathered on another side.
"Agree with President Trump or not, he is our president, and I think what I see happening in D.C. and with the Democrats — it can't stand," said Gary Taylor, 60.
The Associated Press contributed to this report.