Arrests, injuries reported in riot at New Hampshire college during autumn festival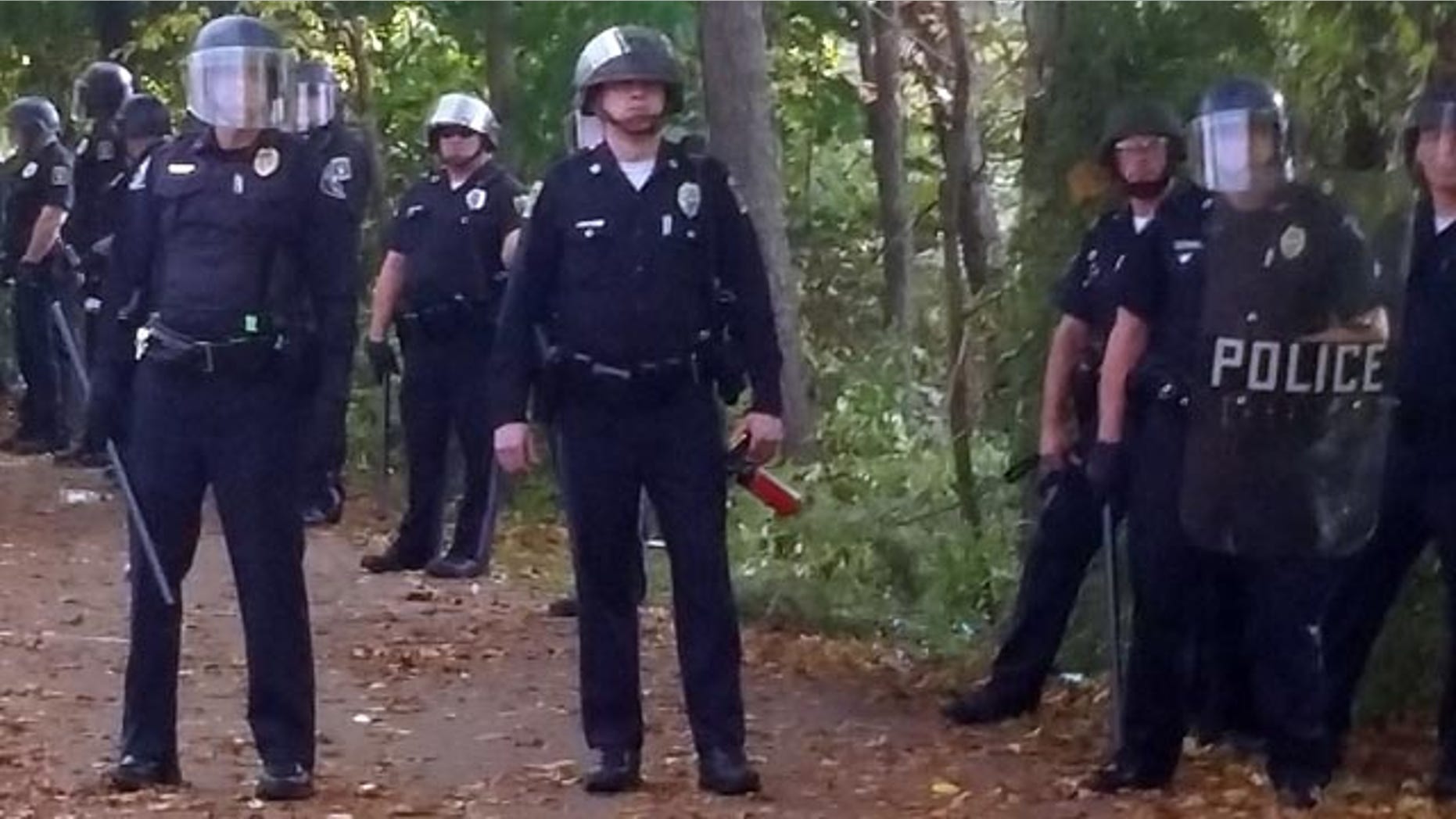 Police in southwestern New Hampshire used tear gas to disperse crowds of college students who turned the town of Keene's annual Pumpkin Festival into a riot Saturday.
The Union Leader reported that more than 30 people were injured and 20 hospitalized Saturday afternoon when hundreds of Keene State College students and their friends gathered on a street just off the college's campus while the popular festival was taking place on Main Street. Town fire chief Mark Howard told the paper that police and firefighters were called to the scene at around 3 p.m. local time.
Howard reported that the injuries suffered included cuts from broken class or people being hit by bottles and cans.
College officials provided few specifics on the melee but said Keene State students and out-of-town visitors were involved. The school said in a statement that off-campus gatherings had at locations around the city Friday, but had briefly calmed down before ramping up again Saturday afternoon.
Keene State student Ellery Murray told The Boston Globe she was at a party that had drawn a large crowd when people started throwing things. She said police responded in riot gear and used tear gas to break up the crowd.
"People were just throwing everything they could find -- rocks, skateboards, buckets, pumpkins," she said. "People just got too drunk."
New Hampshire Gov. Maggie Hassan said state and local safety officials worked to defuse what she called "the situation."
WMUR-TV reported that trouble flared up again at around 9:30 p.m. local time, when rioters threw objects at police and set fires as officers tried to push them back. The station reported that police officers from Keene and several surrounding towns responded to the mayhem along with New Hampshire state police. WMUR reported that arrests were made, but a precise number was not immediately made available.
The Union Leader reported that cars and Dumpsters were overturned and fires were hit before police released tear gas at around 10 p.m.
College President Anne Huot said in an emailed statement that the festival has been promoted by others "as a destination for destructive and raucous behavior" and the college had tried on the front end, in working with the city and campus, to prevent this from happening.
"We deplore the actions of those whose only purpose was to cause mayhem," she said, adding that the students involved will be held accountable.
The Pumpkin Festival has been held annually in Keene since 1991 and attracts people of all ages from all over the state and New England region. Last year, the festival set a world record for hosting the most carved and lit jack-o-lanterns with 30,581. However, the festival has also attracted college students from across the region for a weekend of drinking and partying.
Recent Keene State graduate Julie Conlon told the Globe, "Pumpkinfest has always been fun. Yeah, kids drink excessively, but it's never been out of control. This year I watched thousands of kids pile into a backyard and kind of go crazy."
The Associated Press contributed to this report. 
Click for more from The Union Leader.