Army guns: Soldiers demand right to roll up sleeves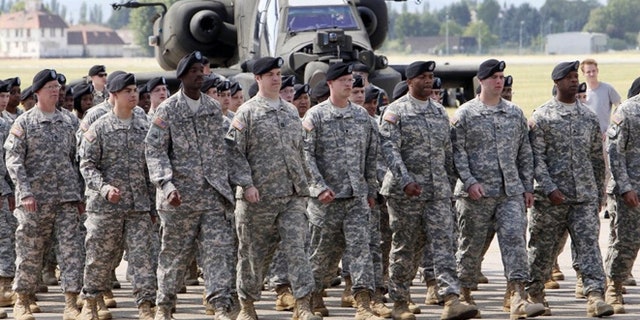 NEWYou can now listen to Fox News articles!
Spc. Milt Perkins and dozens of other Army soldiers are reportedly ready to roll — their sleeves, that is.
Perkins, a 26-year-old operating room specialist for a combat support hospital, wants Army brass to allow him to roll up the sleeves of his Army Combat Uniform (ACU) to catch a hint of much-needed breeze at Louisiana's Fort Polk. But Army soldiers have been denied that pleasure for roughly a decade, since the ACU replaced the Battle Dress Uniform. Troops in the other U.S. services, meanwhile, are allowed to roll their sleeves, most notably leading to the Marines' "suns out, guns out" mantra.
"I sweat every day when I walk to work," Perkins told Army Times. "You get sticky."
Army officials told the newspaper that the ACU top was designed to protect soldiers' forearms from sun exposure, insects and other elements. It's not intended to be cuffed or rolled at the sleeve and the issue is currently not on the table, although leadership is "always looking to make our clothing and equipment better," according to Command Sgt. Maj. Doug Maddi, senior enlisted adviser to PEO Soldier, the office that procures and provides soldier equipment.
Perkins was one of dozens of soldiers who told Army Times that they'd like to see the ban scrapped, particularly during summer months in warm climates.
"When it's hot in Louisiana, we should be able to roll up our sleeves," Perkins said.
Spc. Ian Humphrey, a 26-year-old construction surveyor at North Carolina's Fort Bragg and the son of a Marine scout sniper, recalled the crisp, cuffed sleeves of the BDU era.
"In BDUs, they looked more like soldiers, someone to look up to," Humphrey told Army Times. "You always saw everyone with their sleeves rolled up and tattoos out, no problem."
Not all soldiers agreed, however, that it's time to lift the ban.
Army National Guard Staff Sgt. James Lowe, a 35-year-old indirect fire infantryman at Texas' Camp Swift, said he didn't enjoy rolling his sleeves on active duty in the late 1990s and still opposes it. He cited a fellow soldier whose arms were too large to fit through rolled-up sleeves, leading him to make alterations.
"I know this would not be a common problem, but it caused him to have to spend money to alter uniforms," Lowe said.
The ban began with a single sentence tucked away in a message from April 5, 2005, when then-Army chief of staff Gen. Peter Schoomaker replaced the BDU with the digital ACU. It mandated that sleeves "will be worn down at all times, and not rolled or cuffed."
The policy would protect soldiers against sunburn and skin cancer, Army officials said at the time, not to mention potential flashovers from roadside bombs. And anyway, the uniform simply wasn't designed to have its sleeves rolled, Maddi said, adding that its Velcro pockets on either forearm and a pen pocket above the left cuff "makes it difficult" to sport the rolled look.