Army Golden Knights paratroopers go from teammates to married couple
Love and passion for the flying through the sky led two skydivers to compete all over the world for the military. Eventually they took the biggest jump of their lives – a leap of faith into marriage.
Sergeant First Class Matt Davidson, a paratrooper for the Army's Golden Knights, makes a living jumping out of planes.
"I've loved parachutes for as long as I can remember," Davidson told Fox News.
For him, the love of flying began before he could even walk.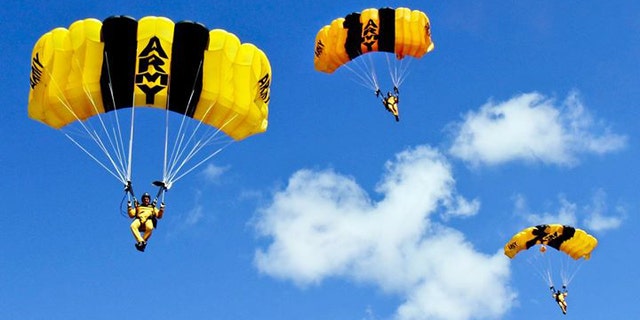 "Living at Ft. Devens, Massachusetts as a youngster, my parents recall, 'paratoot' being one of my first words as I pointed up at canopies during military airborne operations," Davidson said.
Now, he and his team of seven, which includes his wife, Master Sergeant Jen Davidson, are preparing for August's World Cup of Formation Skydiving in Saalouis, Germany.
"We never take anything for granted because we never know exactly how much other teams have trained," Davidson said. "We never underestimate anyone."
Jen joined the Army and deployed to Iraq for eight months before trying out for the Golden Knights.
"I made it through tryouts, and went to the Gold demonstration team, where I was able to do demos into airshows and football games throughout the year, continue to skydive for fun on my off time, and get a tunnel membership at Paraclete XP Indoor Skydiving here in Raeford," Jen said.
Now Jen is the newest member on the 8-way team. She started training with an all women's 4-way team in 2011 and worked her way up to her husband Matt's team.
"When I was moved to the 4-way team, we worked more closely with, and traveled with the 8-way team, and that is where I got to know Matt," Jen wrote in an email to Fox News. "We got married in October 2013. Now we are both on the 8-way team, and get to work together every day."
Matt says having Jen on the team has built a stronger bond between them and their teammates, but having two new members on the team can change the dynamic.
"For the last three years we've beaten all other teams by a wide margin but this year we have two newer, relatively inexperienced 8-way flyers (Jen Davidson and David Flynn)," Matt said. "They're both very talented flyers, they just don't have the years of 8-way specific experience as the rest of us."
WOUNDED VETERANS FIND NEW PURPOSE: SAVING THE PLANET
Jen and Matt say doing these competitions are about more than winning trophies.
"I want to put a face to the general public and show them some of what the military is capable of and hopefully provide that excellence that the rest of the military is doing," Davidson said.
WORLD WAR II VETERAN RECALLS FIGHTING IN BATTLE OF THE BULGE
The Golden Knights began in their earliest form in 1959. Two years later the Department of Defense announced the Gold Knights would be the official United States Army Parachute Team.
Since 1962, the team has performed in more than 16,000 shows in 50 states and 48 countries.