Army Capt. Gary Rose, risked his life to save others in Vietnam War, awarded Medal of Honor
Officially retired, Army Capt. Gary "Mike" Rose was never in Laos at the height of the Vietnam War.
Rose, now 69, served as a medic in the Military Assistance Command Studies and Observations Group, an elite division of the Special Forces. It was so secret that, for more than four decades, he never spoke about it to anyone – not even the people he served with.
Those that served with him, however, never forgot the bravery he showed during a four-day mission, called "Operation Tailwind," in the landlocked country in September 1970.
Rose, then a sergeant, ran through a hail of gunfire to treat more than 50 soldiers who were fighting the North Vietnamese Army – using one hand to hoist wounded men onto his back while he fired on the enemy with his other hand.
In spite of his own injuries, he didn't sleep for days to make sure all 16 American soldiers deployed with him made it home.
They did.
Forty-seven years later, Rose was commemorated for his "extraordinary selfless service" on Monday when he received the Medal of Honor during a ceremony with President Trump at the White House.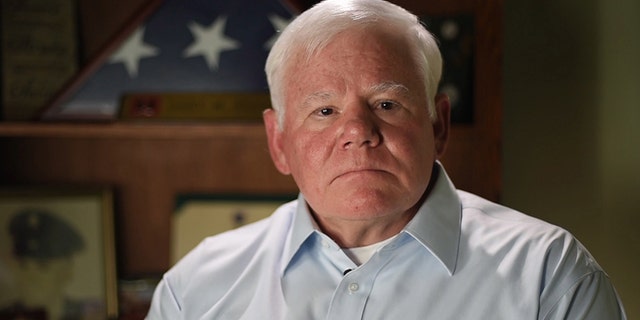 "For many years the story of Mike's heroism has gone untold. But today we gather to tell the world of his valor and proudly present him with out nation's highest military honor," Trump said.
The president recounted the details of Rose's time in battle before awarding him the medal, recognizing "the true American hero that he is."
Following the ceremony, Rose told reporters that he considered the award to be "a collective medal" for all of the servicemen who fought in the battle and was "convinced that they have been recognized for the great service that did to this country."
"This is our medal, it's not mine. We all earned it," Rose said.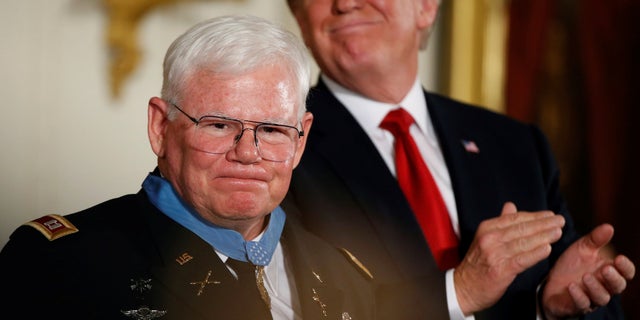 Rose enlisted in April 1967 at the urging of his father – to avoid getting drafted by the Navy or the Marine Corps. In 1968, he graduated as a Special Forces medic and was assigned to the 7th Special Forces Group before being reassigned to the 46th Special Forces Company headquartered in Thailand a year later.
It was there, in April 1970, that Rose was assigned to the Military Assistance Command Studies and Observations Group. The unit's real purpose was to join forces with local fighters to attack North Vietnamese forces in Laos – officially off limits for combat, USA Today reported.
On Sept. 11, 1970, the unit – comprised of Americans, Vietnamese and indigenous paramilitary Montagnard personnel – were sent deep into enemy territory. As soon as they made contact, two Americans and two Montagnards were wounded, and Rose jumped into action.
The Army said the gunfire got so intense Rose had to crawl from position to position to treat the wounded.
"The actions that Mike performed during that operation, you can't imagine it, you can't put it into words," said retired Lt. Col. Eugene McCarley, who was in charge of the unit, on Friday. "We were going into an area that U.S. forces had not been in….Had we not come out the day we were extracted, we probably would not have left."
During the extraction of the troops, one of the helicopters crashed to the ground, injuring many on board and killing one.
Ignoring his own injuries – sustained earlier in the mission – Rose re-entered the destroyed helicopter to pull a solider to safety. McCarley said the soldier shouldn't have survived, but did, thanks to Rose.
"I had the opportunity to meet with him [years later]…it had not affected him in any way," he added. "Mike did a miraculous job."
Despite the many who were wounded, only three men died during the four days of almost constant gunfire deep in enemy territory.
"I can't think of an individual who deserves this more. I'm proud of him, [and] because of my association with him, I feel like I am a better man."
"My job was to focus on the individuals that were hurt," he said on Friday. "When you focus, you don't concern yourself on getting hurt or killed. You just have to do your job and keep going down the road."
For his bravery, Rose earned the Distinguished Service Cross, the nation's second-highest award for valor.
But what happened during those four days in Laos were never mentioned.
"When we left MAG SOC, the unit did not exist. If anyone asked me, I was going to be a mail clerk during the Vietnam War," Rose said.
That is until 1998, when a report by CNN and Time magazine revealed Rose and the soldiers in Operation Tailwind were sent to Laos to capture American defectors and had used deadly Sarin nerve gas during the attack.
A Pentagon investigation dismissed the report, saying the mission focused on collecting intelligence on the logistics of the North Vietnamese army and destroying their supplies.
While the story of Rose's valor has now led to a Medal of Honor, however, the covert operations by the U.S. in Laos are still obscured as somewhere "deep in enemy-controlled territory."
McCarley said he was disappointed Rose had previously only received the Distinguished Service Cross, saying he deserved the top honor.
For more than 40 years, McCarley and others in the military and government fought to get the award upgraded.
Last year, Congress passed legislation authorizing the Medal of Honor for Rose, waiving the five-year time limit for the events that happened 47 years ago.
"I can't think of an individual who deserves this more," McCarley said. "I'm proud of him [and] because of my association with him, I feel like I am a better man."
Rose, who was joined by his wife, Margaret Rose, and their children and grandchildren -- as well as 10 of the men who served with him in Laos -- said he considers it a privilege to be part of the small group of service members who have received the Medal of Honor.
"We cannot forget these men and women who served this country valiantly," he said.