Arizona Wildfire Continues to Burn Out of Control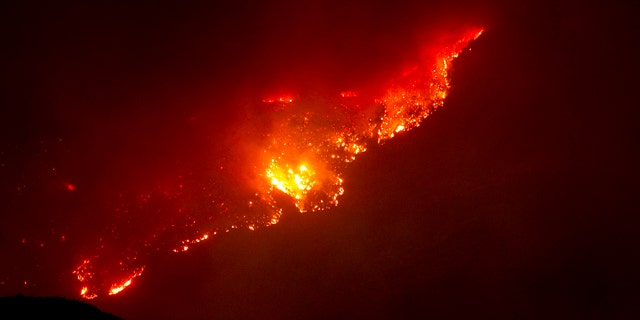 SPRINGERVILLE, Ariz. -- The massive Arizona blaze known as the Wallow Fire has charred more than 386,000 acres with just 5 percent containment, as flames continue to burn out of control Thursday.
An extremely dry late winter and spring contributed to the fire conditions, drying out the forest and allowing fierce winds to carry the flames into the treetops, where they spread by miles each day.
Thousands of people have been forced to flee from mountain resort communities and two large towns at the forest's edge.
The current fire had swallowed up 11 structures before destroying 22 homes overnight in Greer and damaging five other homes in that community. Fire officials said Thursday that 24 outbuildings in Greer also were destroyed by the wildfire along with one vehicle.
Power lines that supply much of West Texas and southern New Mexico remain in jeopardy.
The wildfire, after reportedly being sparked by a campfire, has become the second-largest wildfire in state history and is still growing.
Winds were expected to shift later Thursday and could drive the flames into New Mexico, where residents of the small town of Luna were preparing to evacuate.
A raging wildfire that could become the largest in Arizona history is rekindling the blame game surrounding ponderosa pine forests that have become dangerously overgrown after a century of fire suppression.
Some critics put the responsibility on environmentalists for lawsuits that have cut back on logging. Others blame overzealous firefighters for altering the natural cycle of lightning-sparked fires that once cleared the forest floor.
Either way, forests across the West that once had 50 trees per acre now have hundreds, sometimes thousands, and much of the landscape is choked with tinder-dry brush.
The density of the growth has fueled immense conflagrations in recent years like the 603-square-mile blaze now burning in the Apache-Sitgreaves National Forest northeast of Phoenix.
"I think what is happening proves the debate," said state Sen. Sylvia Allen, a Republican from rural Snowflake.
In the past, a 30-square-mile fire was considered huge. "And it used to be the loggers got right on it. Never in the past have you had these huge fires."
Today, it's not uncommon for fires to exceed 150 square miles.
Many in Arizona blame the legal battles that have erupted over old-growth logging that threatened endangered species such as the Mexican spotted owl. Since those disputes prevented regular logging that would have thinned the number of trees, the forests became overgrown, they say.
Environmentalists insist that theory is just a scare tactic.
"That's just wrong, flat-out wrong," said Bryan Bird of Wildearth Guardians, which has been involved in some of the lawsuits. "These people are misinformed or they're intentionally trying to scare people in a time that they're already terrified. It's pure politics."
Experts such as professor Wally Covington of Northern Arizona University, who has studied Western forests for decades, say the problems have been building for decades, and blaming lawsuits ignores those facts. Nearly half a million square miles of ponderosa and conifer forests are at risk across the West, he said.
Historically, those forests were relatively thin, with grass and wildflowers growing beneath the canopy. Every two to 10 years, a fire would move through and burn out the undergrowth and small trees.
As the region was settled in the 1880s, cattle were brought in to feast on the grass, which limited fires and let small trees mature. Early foresters liked that, because they wanted the forest fully stocked with trees. And they began putting out fires early in the 1900s to help the trees grow, Covington said.
As the forest got thicker, fires got harder to fight, and the U.S. Forest Service hired thousands of men to battle the flames. Small fires that reached into the treetops were first seen in Arizona in the 1940s. Over the following decades, the typical treetop fire went from a few acres to a few thousand to more than 10,000 by the 1990s.
Then early in the 2000s, huge conflagrations emerged that turned hundreds of thousands of acres to ash.
"Now, we're firmly in the multiple 100,000-acre landscape fire,' Covington said.
Sen. Jon Kyl, an Arizona Republican, says environmental lawsuits have put the nation's forests at risk. And in places where the Apache-Sitgreaves forest had been thinned, he said, crews were better able to control the fire.
"So it does work," said Kyl, who has a cabin in the resort town of Greer that is threatened by the flames. "And we haven't been able to do as much of it as we would like."
The Forest Service has acknowledged the problem, setting up nine restoration projects across the West designed to let private industry thin small trees. In Arizona, the Four Forests Initiative is expected to help clear about 50 square miles a year and use the discarded brush for construction material. But the plan isn't off the ground yet, angering some, including Allen.
When the plan does start, it will build on projects already under way in the state's White Mountains, where similar efforts are credited with saving some small communities from the current fire.
"If it weren't for that, we'd probably be having a much different discussion about Alpine right now, Nutrioso and Springerville," said Chris Knopp, supervisor of the Apache-Sitgreaves forest. "Those areas do have a buffer around them that has helped the firefighters very much in controlling this fire."
The same debate over the ecology-industry balance is also happening in the halls of Washington.
"What we're really trying to accomplish with that project is a real balance in synergy between the ecological results we want and an industry that will help support that goal," he said.
Asked about the blaze that has devoured about a quarter of the forest he manages, Knopp choked up.
"It's heartbreaking, to be blunt," he said. "This is some of the most beautiful country in the world. It's very difficult to see it change so fast."
The current fire had swallowed up 11 structures before destroying 22 homes overnight in Greer and damaging five other homes in that community. Fire officials said Thursday that 24 outbuildings in Greer also were destroyed by the wildfire along with one vehicle.