Arizona man no longer 'person of interest' in Vegas shooting: report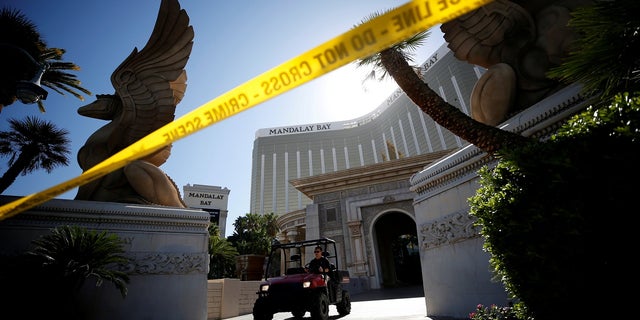 An Arizona man was once considered a "person of interest" in the Oct. 1 Las Vegas shooting because his name was found on a box of ammunition inside the gunman's hotel room, a law enforcement official said this week.
But now authorities believe Douglas Haig, of Mesa, had no involvement in or knowledge of gunman Stephen Paddock's rampage that left 58 people dead, said the official, who spoke to the Associated Press on condition of anonymity.
Haig's name surfaced this week because his name had failed to be redacted from a single page of more than 270 documents provided to the Las Vegas Review-Journal.
Information on why authorities considered Haig a person of interest was not disclosed in the documents.
Haig told "CBS This Morning" on Wednesday that he sold more than 700 rounds of ammunition to Paddock, and didn't detect anything unusual about Paddock at the time.
Officials have not officially said whether Haig has been cleared in the investigation.
Law enforcement officers found the box of ammunition when they went through Paddock's 32nd-floor suite at the Mandalay Bay Resort and Casino, where the mass shooter gunned down the crowd of fans at a country-music festival.
The box had Haig's name and address on it, the Arizona Republic reported, citing Marc Victor, the lawyer for Haig.
"Within hours, they contacted my client," Victor said.
The FBI and Bureau of Alcohol, Tobacco, Firearms and Explosives agents interviewed Haig, Victor said.
Haig never thought his name would be "wrapped up" in a case that has caused grief and trauma to so many people, the report said.
"I think what's important to know here is that he is aware there are bad people out there and he was on the lookout for that stuff," Victor said. "In this case, there wasn't anything strange. There wasn't anything strange about this sell."
Victor said he doesn't expect his client to be charged with any crime. He said it's been several months since federal agents have contacted his client.
Haig told the Republic that his transaction with Paddock still haunts him.
"It really starts to get me upset when I heard what he did," Haig said. "I think about it every day. Every day."
Haig is an aerospace engineer for Honeywell who ran a small ammunition business from his home in Mesa, through a website called Specialized Military Ammunition, the newspaper reported, but the website said the business is closed indefinitely.
Fox News' Stephen Sorace and the Asociated Press contributed to this story.