Arias resumes testimony after grueling 11th day, contradicts previous statements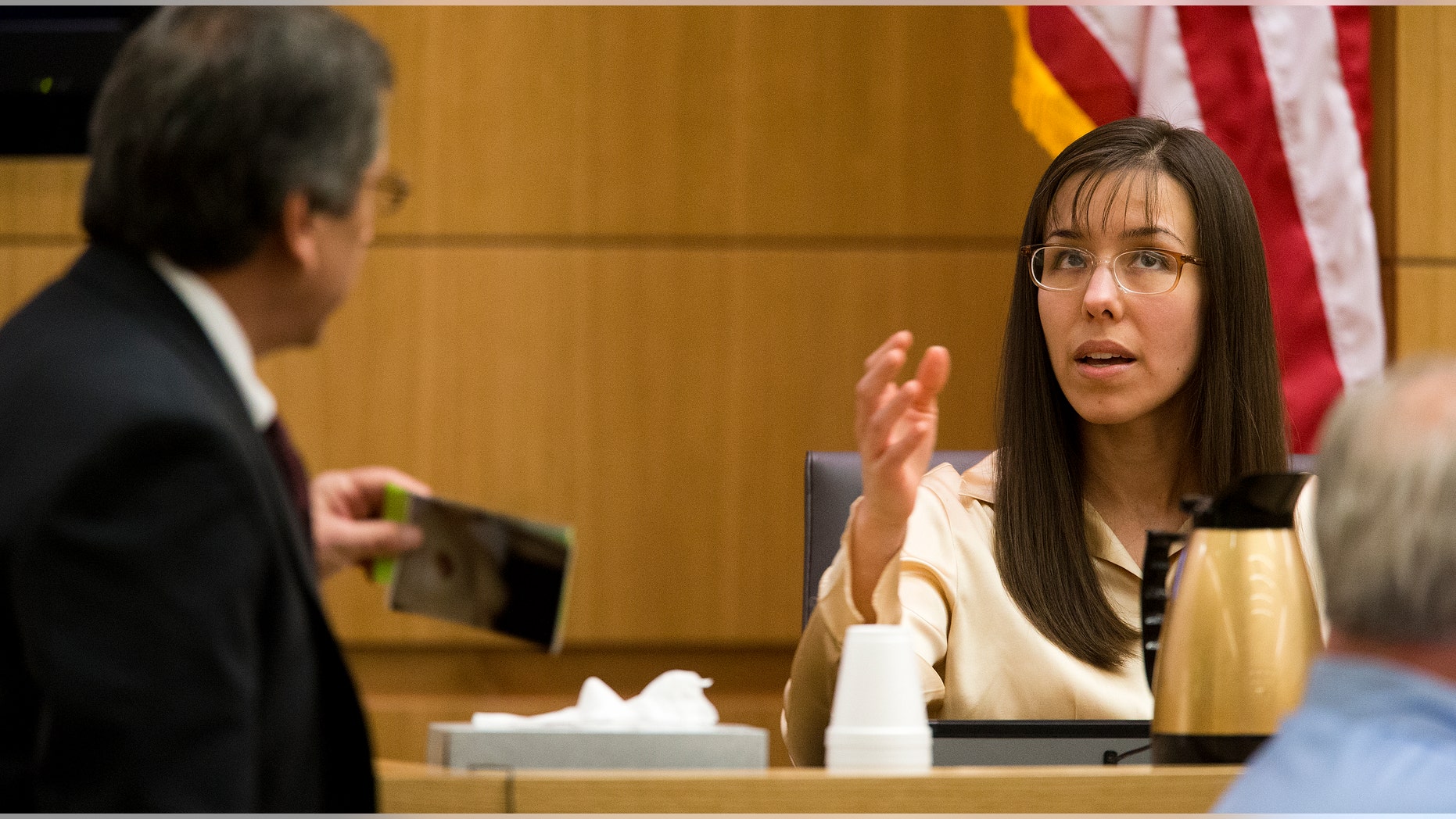 PHOENIX – Jodi Arias acknowledged Wednesday during her Arizona murder trial that she enjoyed, even instigated, raunchy sex acts with the victim contrary to previous testimony that he coerced her to perform them, at times making her feel like a prostitute.
Under aggressive questioning by prosecutor Juan Martinez, Arias said she was blossoming sexually and the couple's antics were helping her grow.
Martinez has been working to poke holes in her stories and has noted the duplicity of her portrayal of Travis Alexander, trying to show jurors she is lying, as he works for a first-degree murder conviction and the death penalty.
Arias has said throughout the trial that Alexander coerced her into performing raunchy sex acts, while phone recordings played for jurors and text messages shown in court seem to indicate that she enjoyed participating.
"So when you tell us you felt like a prostitute it seems to be contradictory?" Martinez noted.
Arias said he is misunderstanding the context of the text messages and calls, during which one segment played for jurors has Arias telling Alexander, "You are amazing. Seriously, you made me feel like a goddess."
Martinez noted the call, which Arias recorded, came shortly after one of the encounters Arias claimed made her feel like Alexander was using her for sex.
"You were actually into it as much as he was, right?" Martinez asked.
"Yes," Arias said.
Martinez then read for jurors salacious text messages between Arias and Alexander, one of which has Arias describing how she wanted to be treated "like a dirty little schoolgirl."
She previously testified that was just one of Alexander's "deviant" sexual fantasies that made her uncomfortable.
"You did enjoy dressing up though, right?" Martinez asked.
"Um, yes," Arias replied.
"It was a consensual mutual relationship sexually speaking, wasn't it?" Martinez prodded.
"Yes, always," Arias said.
"No indication that you were offended?" the prosecutor continued.
"Correct," Arias replied.
Martinez also questioned Arias over her repeated lies to authorities, friends and family in the days after she killed Alexander. She first claimed to know nothing about the killing, then later blamed it on intruders, providing descriptions of the attack by two masked people in several media interviews. She eventually settled on self-defense. She was too ashamed and frightened of the consequences to be truthful, she told jurors.
Martinez noted that even her lies were changing as she spoke to various media organizations.
"I couldn't keep my stories straight," Arias said.
The prosecutor also noted how Arias has alternately described Alexander as a cheating womanizer, an angry man with a violent temper who once choked her into unconsciousness, while simultaneously a caring, loving boyfriend.
Arias is charged in the June 2008 death of Alexander in his suburban Phoenix home. She says she dated him for about five months before breaking up but continued to see him for sex up until the day she killed him. She was forced to fight for her life after Alexander attacked her, she said, but police say she planned the killing in a jealous rage.
Arias has said Alexander invited her to his Mesa home on the day of the killing for sex. His body was found about five days later. He had been shot in the head, suffered 27 stab and slash wounds and his throat was slit.
Of the day of Alexander's death, Arias says he was in a rage, body-slamming her and chasing her around his home.
She said she grabbed a gun from his closet, and fired it as they tussled, but doesn't recall stabbing him. She said she remembers putting a knife in the dishwasher and disposing of the gun in the desert as she drove from Arizona to see a man in Utah, where she spent the night in his bed as she worked to create an alibi and avoid suspicion. She even attended Alexander's memorial service about 10 days later.
Arias' grandparents reported a .25 caliber handgun stolen from their Northern California house about a week before the killing -- the same caliber used to shoot Alexander -- but Arias says she knows nothing about the burglary and brought no weapons to his home.