APNewsBreak: Wis. teacher retirements double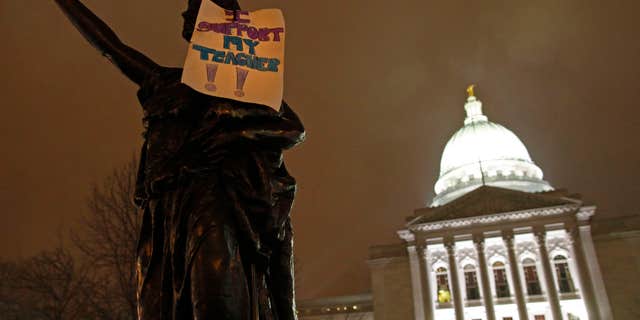 MADISON, Wis. – When students return Thursday for the first day of school across Wisconsin, many familiar faces will be gone, as teachers chose retirement over coming back in the wake of a new law that forces them to pay more for benefits while taking away most of their collective bargaining rights.
Documents obtained by The Associated Press under the state's open records law show that about twice as many public school teachers decided to hang it up in the first half of this year as in each of the past two full years, part of a mass exit of public employees.
Their departures came before the new law took effect, changes pushed by Gov. Scott Walker and the Republican Legislature that led to weeks of protests at the Capitol.
The ensuing exodus of teachers and other state employees has led to fears that the jobs might not be filled, and that classroom leadership by veteran teachers will be lost.
Ginny Fleck, a German teacher from Green Bay with 30 years of experience, is among nearly 5,000 teachers who retired.
"It wouldn't make sense for me to teach one more year and basically lose $8,000," she said. Fleck, 69, decided to retire in February, even before the bill became law, in part because of the hit she would take to her $60,000 annual salary, and because of other changes the district was making.
In the first six months of 2011, overall public employee retirements were double that in all of either 2009 or 2010, according to data provided to the AP by the Wisconsin Retirement System. That includes 4,935 Wisconsin school district employees who started receiving retirement benefits, up from 2,527 teacher retirements in all of 2010 and 2,417 in 2009.
Teachers weren't the only ones heading for the exits. State agency retirements were particularly dramatic, nearly tripling from 747 in all of 2010 to 1,966 through June. Retirements from the University of Wisconsin System more than doubled, up from 480 last year to 1,091 this year. All told, 9,933 public workers had retired by the end of June, a 93 percent increase from 5,133 in 2010. The year before, there were 4,876 retirements.
The state Department of Administration said no decision has been made on how many of the government jobs will be filled.
"Each agency is looking at the vacancies created by retirements — case by case — and making decisions based on the needs of the agency, as well as with an eye toward keeping costs down for taxpayers," said DOA spokeswoman Carla Vigue.
C.J. Peters, a sixth-grade social studies teacher in Green Bay with more than 24 years of experience, decided to retire about two months before Walker proposed the collective bargaining changes. The fight over that "put the icing on the cake that I had made the right decision," she said.
Peters said her position has been filled, but she worries what effect the loss of all the experience of those retiring will have on the students and educational system.
"You can't get experience through a book, you've got to teach," she said. "I think a lot of talent has been lost."
Roughly 10 percent of the teaching force in Beloit — 60 out of about 600 — retired this year, which means higher class sizes for both elementary and high school students, said superintendent Steve McNeal. The district filled 40 of the vacancies.
"It's a significant loss to our system, it's a significant loss to education," McNeal said. "We lost a whole bunch of talent and a whole bunch of talent all at the same time. It disrupted the normal cycle."
Many public workers feel under attack by the measure that required them to pay more for their health insurance and pension benefits and took away most of their ability to collectively bargain.
Lawmakers pushed the changes as a way for schools and governments to deal with deep cuts necessitated by a state budget shortfall. Since the law took effect, Walker has repeatedly touted examples of schools like Fond du Lac, Hudson and Appleton that say they are saving money.
Some of the savings are due to the large number of retirements. In general, older teachers get paid more and so represent more of a savings for the schools when they leave. Beloit saved $920,000 through the retirements, McNeal said. But he said those decades of experience cannot be replaced with teachers fresh out of college.
It's unclear how many vacancies caused by teacher retirements are being filled statewide. A spokesman for the Wisconsin Association of School Boards said it was not tracking retirements. A website maintained by the state listed 244 public school openings as of Monday.
Most of the 29 retirements in the Eau Claire school district were filled, said superintendent Ron Heilmann. And that figure was actually down compared to the three-year average of 32 out of a staff of roughly 840.
Heilmann attributed that to the fact that teachers got some certainty by extending their contract for a year, though they took a salary freeze along with the higher pension and health care payments. But Heilmann said there already is chatter about a spike in retirements next year when that contract ends.
"In the back of my mind, that's always a concern of mine," he said. "As a state, Wisconsin is going to have to wake up and balance both sides of the equation. Is losing people on the higher end of the salary schedule good for our schools and children in the long term?"
In Green Bay, Fleck said about 140 out of 1,700 of the district's teachers retired this year. She said another 50 or so planned to retire in the middle of this school year.
"All of the leadership is gone," she said. "Some of these younger people who come in need help from the older teachers and they are gone. Plus, the morale is really down."
Fleck, who will not be reporting to school for the first time in three decades, is not having second thoughts.
"I made the right decision," she said. "I'm glad that I did."