AP FACT CHECK: Trump on firings at VA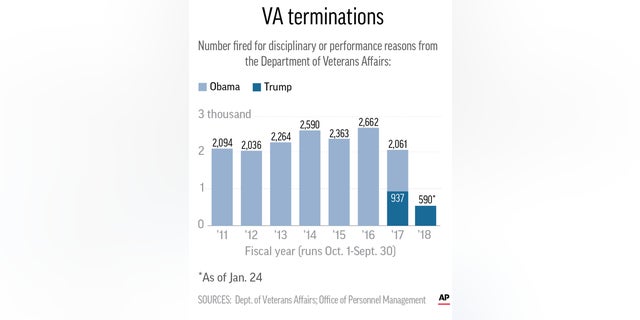 NEWYou can now listen to Fox News articles!
WASHINGTON – A look at President Donald Trump's statement Tuesday night on Department of Veterans Affairs firings and how it compares with the facts:
TRUMP: "Last year, the Congress passed, and I signed, the landmark VA Accountability Act. Since its passage, my administration has already removed more than 1,500 VA employees who failed to give our veterans the care they deserve."
THE FACTS: This statement is inaccurate. It's true that more than 1,500 firings at the VA have occurred so far during the Trump administration. But more than 500 of those firings occurred from Jan. 20, when Trump took office, to late June, when the new accountability law began to take effect. That means roughly one-third of the 1,500 firings cannot be attributed to the new law.
Congress passed the legislation last June making it easier to fire VA employees and shortening the time employees have to challenge disciplinary actions. But the law's impact on improving accountability at the department remains unclear: More VA employees were fired in former President Barack Obama's last budget year, for instance, than in Trump's first.
___
Find AP Fact Checks at http://apne.ws/2kbx8bd
Follow @APFactCheck on Twitter: https://twitter.com/APFactCheck