'Anxious' juror in El Chapo trial delays opening statements after she demands to be taken off case
NEW YORK – Opening statements in Joaquin "El Chapo" Guzman's trial began Tuesday afternoon, following a delay brought on by a juror who was reportedly "too anxious and too upset" to serve on the jury.
The New York Post reports Juror No. 1 showed up with a doctor's note to back up her claims. This is the same woman who sobbed last week after she was chosen to serve on the jury.
The juror said she feared for her safety because Guzman, the most notorious drug trafficker in the world, is known for hiring sicarios, or hitmen, to kill potential witnesses and anyone helping the prosecution against him.
Federal Judge Brian Cogan recognized these fears and ordered the jurors identities to remain anonymous and to be partially sequestered.
Guzman faces 17 federal charges, including drug trafficking, money laundering and firearms charges. If convicted, the 61-year-old reputed Mexican drug lord will spend the rest of his life in prison.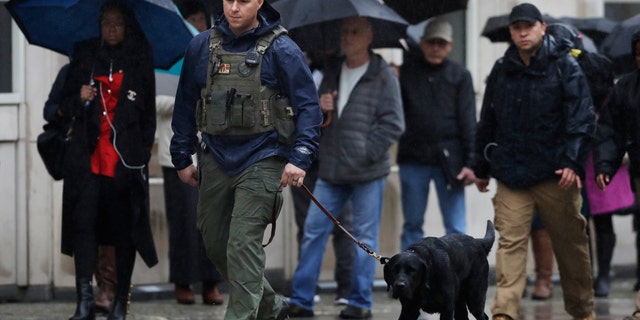 Prosecutors say Guzman ordered the killing of thousands and became the top supplier of cocaine, heroin, meth and marijuana in the United States.
"What made him so significant within the trafficking world was his mastery of logistics. He was the master at bringing drugs from South America into the United States," said Eric Olson, special adviser of the Mexico Institute at the Woodrow Wilson Center. "He also pioneered and excelled at the building of underground tunnels under theU.S. Mexican border."
The evidence includes over 300,000 documents, thousands of wiretap audio recordings, 200 metric tons of seized drugs and testimonies from dozens of witnesses.
One of those witnesses is Jesus Vicente Zambada, a 43-year-old who oversaw cartel logistics. He signed a plea deal and, if he cooperates, his sentence could be reduced from life in prison to as little as 10 years.
"El Chapo" famously escaped twice from Mexico's maximum security prisons.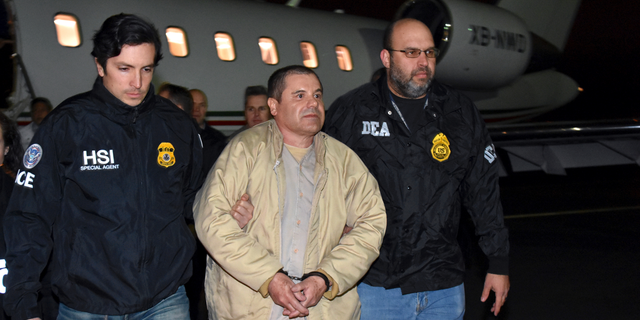 Once in 2001, inside a laundry cart, and again in 2015 through a mile-long tunnel dug into his jail cell.
After his recapture, he was extradited to the U.S. in January 2017.
"They did not agree to extradition initially but in the second escape the use of this sophisticated tunnel under a prison was very clear that Mexican institutions were not capable of effectively imprisoning him and there was real fear that if they brought him to trial they might not be able to prosecute them effectively," Olson told Fox News. "Guzman was very effective at bribing people, buying off authorities, ensuring his impunity in that country and so that's why it became necessary, albeit embarrassing, but necessary for them to extradite him to the United States."
The U.S. Marshals Service and the New York Police Department are not taking any chances.
Twice a week, an armored caravan will shut down the Brooklyn Bridge transporting El Chapo to and from court in Brooklyn. He's been in solitary confinement in a Manhattan jail during the past 21 months.
This trial is expected to last about four months. El Chapo's lawyers say he's being framed.
Meanwhile in Mexico, the drug violence hasn't only continued since El Chapo was captured - it's gotten worse.
According to a report released by Mexico's government in July 2018 by the National Statistics Institute, the number of murders rose 27 percent in 2017, to 31,174 – the most on record going back to 1990.
"Each leader you take off the field is replaced by someone behind them and reconstituted and that's why without a change in the supply and demand for drugs these individual criminal leaders as bad as they are and as important as it is to prosecute them, do not necessarily ultimately alter the trafficking business," Olson explained.
Olson said it was critical to capture Guzman but it didn't make the problem go away.
"As important as it is to extradite him and prosecute Chapo Guzman," Olson said, "sometimes those actions create fractures within the criminal structures that then turn more violent as they compete with each other, they fight with each other and you actually see violence going up – not going down."