Anti-Trump message takes darker turn with calls for assassination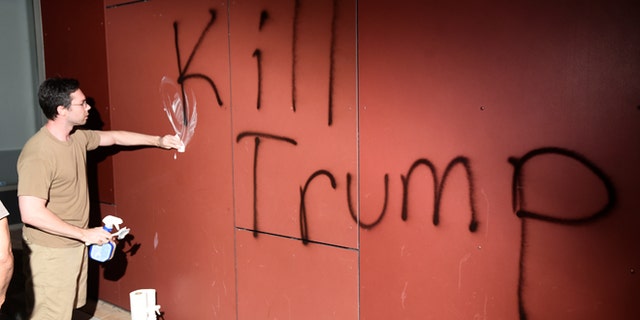 The online vitriol directed at President-elect Donald Trump is getting worse, and critics say social media companies should do more to rein it in.
Since Trump's stunning Election Day victory last week, social media hashtags like #AssassinateTrump and #Killtrump have proliferated. Over the weekend, a protester near Trump Tower held aloft a sign calling for future first lady Melania Trump to be violated, echoing a trending hashtag #RapeMelania.
"This is another example of social media platforms being used to radicalize people," said Eric Feinberg, of GIPEC, a software company that monitors illegal activity and terror-related social media accounts told FoxNews.com. "Terror groups such as ISIS have long utilized this strategy to recruit and radicalize.
STUDENTS ACROSS US STAGE MASS PROTESTS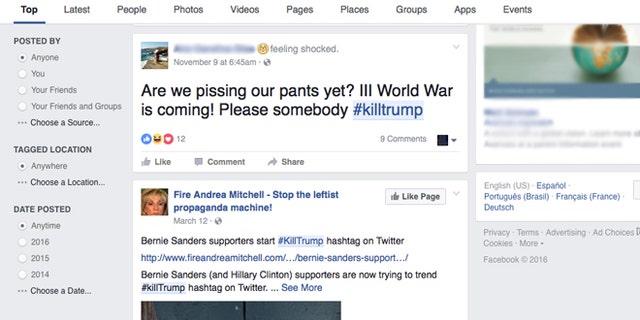 "Now anti-Trump anti-government groups are using the same tactic to recruit, radicalize and compensate to cause civil disobedience and unrest in our cities while overburdening the workload of law enforcement in these cities," he added.
Within the social media realm—particularly on Twitter—dozens of calls to kill Trump have been circulating, with some even calling for both Trump and Vice President-elect Mike Pence to be assassinated by their Jan. 20 inauguration.
Those who support Trump took to Twitter as well, mostly to voice anger over the social media platform's perceived hypocrisy. They noted hashtag #HillaryForPrison was blocked during the campaign, while #AssassinateTrump was not.
"So it's ok to trend #AssassinateTrump, but anti-Hillary hashtags were removed immediately," reads one tweet from @TrumpTrain09.
"Twitter censors pro-Trump trends but allows garbage like "Rape Melania," #AssassinateTrump, #NotMyPresident, etc., to trend," reads another tweet from @DukeNukemSez.
Some users said Twitter could bear the blame if something bad occurs.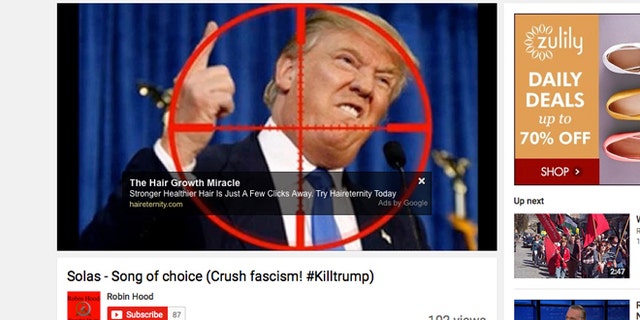 "If something ever happens to @realDonaldTrump b/c of the stupid trend #AssassinateTrump, @twitter employees shd be charged as an accessory," reads one tweet from @Ima_Deplorable.
Social media is not the only place where the violent rhetoric has surfaced since Election Day.
In Oakland, Calif., last week, demonstrators rioted and graffiti saying "Kill Trump" was found spray painted in several places according to the New York Post.
Sources told the newspaper that the Secret Service intends to investigate all social media postings deemed to contain credible threats while adding that there is a difference between one saying that they intend to kill the president and someone suggesting that someone else should. Generally, indirect threats are not prosecuted.