Animatronic T-Rex bursts into flames at Colorado dinosaur park
Burning bits of "dinosaur" debris fell through thick clouds of smoke and flames spewed from the mouth of a giant animatronic Tyrannosaurus Rex last week when an electrical problem caused a fire at a dinosaur exhibit in Colorado.
The fire engulfed the life-size dinosaur Thursday at the Royal Gorge Dinosaur Experience, leaving nothing behind but part of its tail and the structure itself, according to FOX31 Denver.
No one was injured in the fire.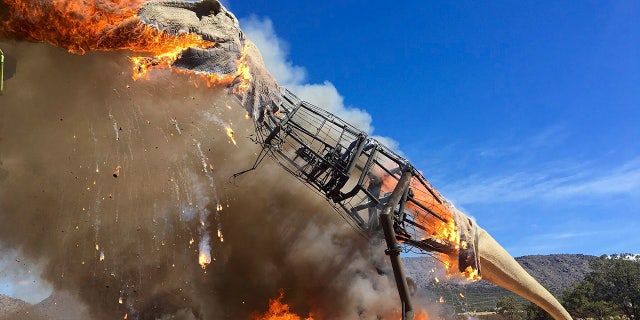 "We always knew T-Rex had a temper but, today he blew his top," Zach Reynolds, the exhibit's president, told Fox 31 Denver in a statement. "There was an unfortunate [and rare] electrical issue with our mighty T-Rex and he is no longer. You might even say… extinct."
The robot was part of a 16-dinosaur walking trail, according to CBS Denver.
Reynolds said most of the park will still be open for business and he said he hopes another T-Rex will be ready for summer.