Amtrak train derailment victims identified as transit employee, rail advocate
NEWYou can now listen to Fox News articles!
A transit employee, a man described as a "rail advocate," and a 40-year-old Washington man were identified as the three people killed when an Amtrak train in Washington state derailed during its inaugural ride on a new route Monday, leaving more than 70 people injured as investigators search for clues on why the celebratory trip turned deadly.
Zack Willhoite, a Pierce Transit employee, and Jim Hamre, a member of the Rail Passengers Association, were killed Monday when Amtrak train 501, carrying 85 passengers and crew members, derailed off an overpass and onto Interstate 5 just around 7:40 a.m. after pulling out of the new Tacoma station, the organization announced.
Hamre and Willhoite were both part of the Rail Passengers Association and were described as "advocates of transit and passenger rail for decades."
"Jim was among the country's most-respected and effective rail advocates and a good friend and mentor to me. I will miss his counsel, and our community is poorer for his loss," Rail Passengers Association President Jim Mathews said in a statement. "Both Jim and Zack have been advocates of transit and passenger rail for decades, and we can't thank them enough for their work. Our thoughts are with their families at this time, as they work through this tragedy."
Chris Karnes, chair of Pierce Transit's Advisory Board, called Willhoite a "rail aficionado." The organization said Willhoite served as the director of information technology for All Aboard Washington.
"It's heartbreaking to hear that @PierceTransit employee and rail aficionado Zack Willhoite did not survive the derailment," Karnes wrote. "He helped our advisory committee with IT issues, and behind the scenes he was a writer and advocate for better transit for all. He will be missed."
Willhoite was an IT customer service support specialist and had been working with Pierce Transit since 2008, the agency said in a statement.
"The entire Pierce Transit team was deeply saddened to learn that one of our employees was a victim of the Dec. 18 Amtrak train accident," the statement read. "He has always been deeply appreciated and admired by his colleagues, and played an important role at our agency. He will be sincerely missed. Our thoughts are with Zack's family, as well as the families of the other victims, during this very difficult time."
Hamre also served as the vice president of All Aboard Washington. He worked at the Washington State Department of Transportation and had been involved with transportation advocacy in the early 1980s, according to Rail Passengers Association.
Benjamin Gran, of Auburn, was identified as the derailment's third victim Wednesday. Authorities said he died of multiple traumatic injuries in the accident.
The National Transportation Safety Board announced Monday night that the Amtrak train was going 80 mph in a 30 mph zone when it derailed along a curve, causing railcars to fall onto the highway and smash into vehicles below. A total of 13 train cars jumped the tracks. Authorities began removing the train cars Tuesday morning. They announced the removal can take days and advised commuters to plan ahead as Interstate 5 remains closed.
More than 70 people were taken to the hospital, 10 of them with serious injuries. The engineer, whose name was not released, was bleeding from the head after the wreck and both eyes were swollen shut, according to the dispatch audio.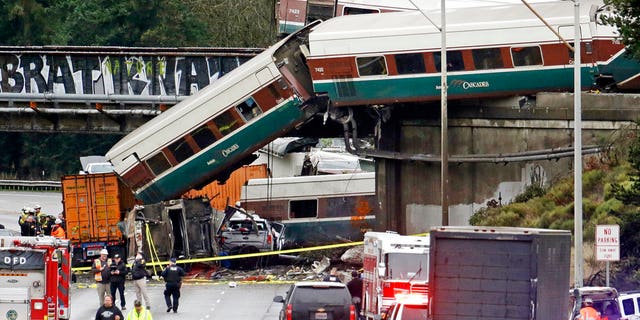 LOCAL WASHINGTON MAYOR FEARED DEADLY ACCIDENTS WEEKS BEFORE AMTRAK DERAILMENT
Train passenger Emma Shafer found herself at a 45-degree angle, staring at the seats in front of her that had come loose and swung around.
"It felt oddly silent after the actual crashing," she said. "Then there was people screaming because their leg was messed up...I don't know if I actually heard the sirens, but they were there. A guy was like, 'Hey, I'm Robert. We'll get you out of here.'"
NTSB member Bella Dinh-Zarr said a team of investigators will be interviewing the engineer and any possible witnesses to find out what exactly happened during the ride.
"We ask [people] to remember everything they can out there…Human memory starts fading. We just want to know exactly what happened and what did," Dinh-Zarr said. "We will also on our own will look at training records, ops manuals to see what policies are in place for this type of run."
TRUMP: AMTRAK DERAILMENT SHOWS NEED FOR INFRASTRUCTURE PLAN
Monday was the first day the train was operating on a new bypass route between Seattle and Portland that was created by refurbishing freight tracks along the major interstate. The $180.7 million project was aimed at speeding up service by bypassing an old route that had a number of curves, single-track tunnels and freight traffic.
But just two weeks before the crash, Lakewood Mayor Don Anderson voiced his concerns about the new route, saying pedestrians and cars were too close to the trains.
"It's virtually inevitable that someone is going to get killed that wouldn't be killed otherwise," Anderson said. "This is unacceptable."
Fox News' Shira Bush and The Associated Press contributed to this report.