Amish buggy crashes in Ohio, killing woman and injuring man and 2 infants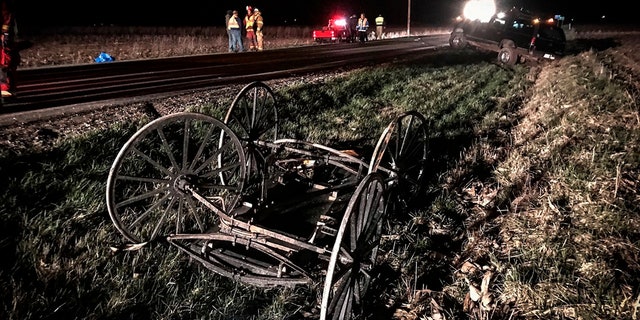 Authorities say an Amish buggy was struck from behind by a pickup truck in Ohio on Friday, killing a woman and critically injuring a man and two infants, according to The Associated Press.
The AP reported the Shelby County Sheriff's Office said the buggy was properly lit when it was struck around 9 p.m. Friday in Sidney, some 75 miles northwest of Columbus.
A 23-year-old woman was pronounced dead at the scene. The infants were flown to a Dayton hospital, while the man was taken to a local medical facility before being transferred to a Dayton hospital.
Sheriff Lt. Tim Bender says the four were members of the same family. Their names haven't been released, the AP reported on Saturday.
The Dayton Daily News, following up on the fatal crash, reported that accidents involving the horse-drawn buggies are not uncommon in the area. The paper said that the Ohio Department of Transportation did a study of buggy crashes in the state involving a motor vehicle from 2007 to 2016.
The study identified 1,412 crashes leading to 25 fatalities and 208 serious injuries during that period of time. The most common scenario was a motor vehicle not maintaining its distance on a straight state road.
The driver of the vehicle that struck the buggy on Friday fled on foot after the accident and was arrested a mile from the scene. Additional information about the accident and arrest was not available at press time.
The Associated Press contributed to this report.