American Paul Whelan receives 16-year Russian jail sentence: report
Former U.S. Marine Paul Whelan was sentenced to 16 years on espionage charges by a Russian court on Monday, despite American condemnation of his arrest and prosecution.

The Moscow City Court on Monday read out the conviction against Whelan, which sentenced him to 16 years in a maximum-security prison colony.
Both Whelan and his family have said that he is innocent, and was only in Russia at the time of his arrest to attend the wedding of a friend from his time in the Marines. U.S. Secretary of State Mike Pompeo has also demanded the American be freed.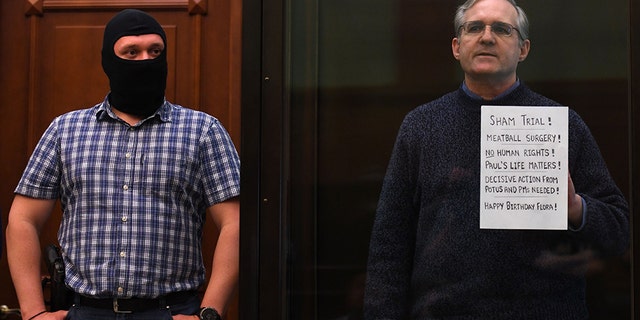 GEN. JACK KEANE ON RUSSIAN BOMBERS INTERCEPTED BY US FIGHTER JETS: 'THEY ROUTINELY TEST OUR DEFENSES'
"It is unacceptable that Paul Whelan has been denied necessary medical treatment until his condition became dire," Pompeo tweeted on May 30, just over two weeks before the Russian court convicted Whelan. "We demand Paul's release."
Whelan, who was arrested in December 2018, has said that he was set up -- that a person he considered a friend handed him a USB drive allegedly containing vacation photos. But minutes later Russian authorities stormed his hotel room. Russia says that the drive contained a list of names of those working at a classified security agency.
Whelan, according to the BBC, has said that his detention in Russia constitutes a "hostage situation" and that "Russia says it caught James Bond on a spy mission. In reality, they abducted Mr. Bean on holiday."
Whelan previously told AFP it's possible he's being held as a pawn in a potential prisoner swap between the U.S. and Russia. The Russian Foreign Ministry denied such claims.

The U.S. Embassy has denounced Whelan's trial as unfair, pointing that no evidence has been provided. And his family, chiefly his brother David Whelan, has publicly defended him.
RUSSIA'S PUTIN REAPPEARS IN PUBLIC AFTER SPENDING MORE THAN 2 MONTHS IN LOCKDOWN
"Day 535: #PaulWhelan sentenced to 16 years in a labor camp. US Amb. John Sullivan calls it 'a mockery of justice,'" David Whelan tweeted after the sentence was announced Monday. "We hope the @RealDonaldTrump Administration will now take action to bring Paul home."
U.S. Ambassador to Russia John Sullivan, in his most recent statement on Whelan's detention, said that Whelan was being denied basic rights by Russia.
"We've watched while Paul has denied due process, while he's been denied access to the outside world, to his family and friends, while he's been denied outside medical care as his health continues to deteriorate, and at every opportunity we've spoken out," Sullivan said. "So little has been done by Russian authorities to ensure Paul's basic human rights."
Sullivan added: "The Russian government has allowed no evidence -- none. All court hearings are being held behind closed doors, in secrecy away from the media, from the public and from me. Away from anyone who might challenge their definition of 'red-handed.' There's been talk of evidence, allusion to evidence and even allusions to discussion of evidence.
"But where is the evidence itself? Hearings are taking place behind closed doors in secrecy. Details of alleged witnesses and alleged evidence appear in the press, but we do not know what is happening behind closed doors. Why so much secrecy?" Sullivan said.
Sullivan said that twice in April he attempted to see Whelan at the Russian courthouse where his trial took place and was not allowed in. Sullivan's spokeswoman, Rebecca Ross, tweeted on Monday morning that Sullivan demands Whelan's release and that the conviction was "a mockery of justice."
"Ambassador Sullivan: The United States demands that U.S. citizen #PaulWhelan be released immediately. His conviction is a mockery of justice. The world is watching," she posted.
The official Russian-language Twitter account of the U.S. Embassy in Russia posted an identical message.
CLICK HERE FOR THE FOX NEWS APP
Whelan is also a citizen in Canada, Ireland and the United Kingdom.
Whelan's brother David said lawyers will appeal the verdict that he denounced as political, adding in a statement that "the court's decision merely completes the final piece of this broken judicial process."

"We had hoped that the court might show some independence but, in the end, Russian judges are political, not legal, entities," the statement said. "We look to the U.S. government to immediately take steps to bring Paul home."
Fox News' Morgan Phillips and Paulina Dedaj, and the Associated Press contributed to this report.