Alligator named 'Catfish' found during home eviction in Kansas City, was a 'big, cuddly lizard'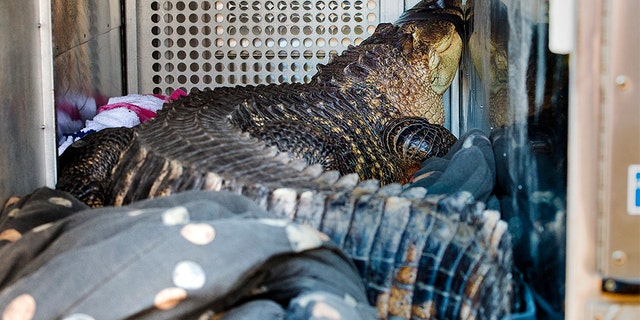 A Missouri landlord in the process of evicting a tenant had to call animal control after finding out the resident was living with an unauthorized, 200-pound house guest.
The Kansas City homeowner said a 7-foot alligator was found curled up inside a hot tub there Wednesday -- and he wasn't alone. The gator was sharing the space with two pythons and a rabbit, who was elsewhere on the premises, likely to avoid becoming a roomate's dinner. All the creatures later were removed by city officials.
Sean Casey, who lived at the home, told the Kansas City Star the alligator was named Catfish and "he was a big, cuddly lizard."
"He smiled all of the time," Casey added, noting he has owned the alligator for around four years.
People who live in Kansas City can have snakes and rabbits as pets -- but alligators are off-limits, a Neighborhood and Housing Services department spokesman told the newspaper.
It reportedly took four workers to drag the reptile off the property. It will now be housed at the Monkey Island Rescue and Sanctuary in Greenwood. The snakes and rabbit are headed to a local animal shelter.