After Scalise shooting, 'alt-left' violence becoming harder to ignore
NEWYou can now listen to Fox News articles!
The shooting of Rep. Steve Scalise, R-La., by a man authorities identify as a left-wing activist has drawn attention to a darker side of progressive America, especially to those groups that directly or indirectly advocate violence against their opponents.
The emergence of violence-prone individuals, such as Scalise's shooter, and extremist progressive groups broadens the nation's conversation about political violence to include liberals as well as conservatives, many of whom are often labeled as fascists by mainstream media and progressive leaders.
Many Republican leaders and conservative experts said the violence allegedly committed by James T. Hodgkinson, a volunteer on the presidential campaign of Democratic Sen. Bernie Sanders, was an outgrowth of hostility toward Trump and Republicans underscored by actions such as those of Kathy Griffin, Snoop Dogg, Madonna and the Public Theater's production of "Julius Caesar," which portrayed Julius Caesar, who is assassinated in the play.
Many political experts note that those high-profile cases of promoting violence are just the tip of an iceberg that remains on the margins of public awareness.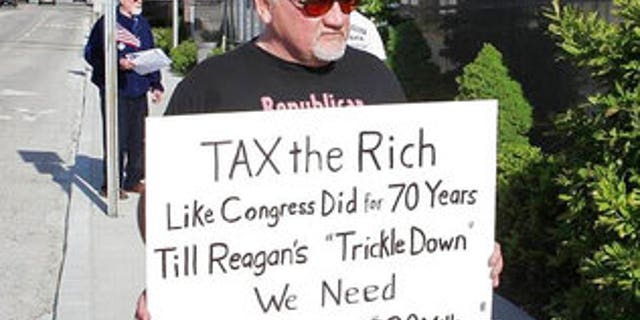 Part of that iceberg emerged in Harrisburg, Pa., when a member of an alt-left group known as Antifa allegedly attacked a police horse in Harrisburg, Pa., with a pole that had nails protruding out of the end of it. Lisa Joy Simon was charged with aggravated assault to police, taunting police animals, resisting arrest and related offenses. The alt-left group was opposing a protest against Sharia law.
In April authorities in Portland, Ore., cancelled an annual parade because an alt-left group threatened to unleash 200 or more activists to attack the Republican Party's contingent.
Several groups across the country appear to promote violence against conservatives and the defense of liberal ideology – by any means necessary.
One group actually calls itself "By Any Means Necessary," or BAMN.
Its founder, civil rights lawyer and BAMN leader Shanta Driver, told Mother Jones magazine, "When we say 'by any means necessary,' we mean everything from doing legal cases to organizing more militant actions. We are not people who believe, in situations where we're under attack, that we should turn the other check."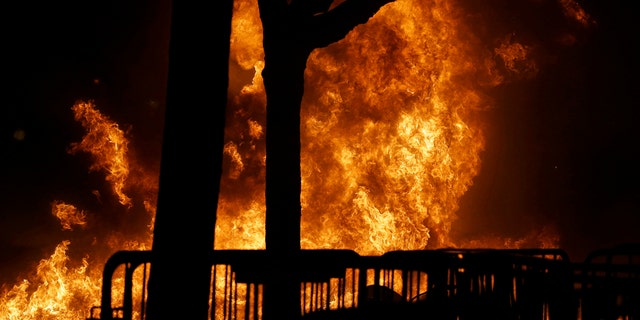 Similar groups are Redneck Revolt and the Huey P. Newton Gun Club, which says among its mission is to "educate black, brown, and poor white people to arms up or at least get familiar with weapons," according to founder Yafeuh Balogun's remarks to Mother Jones.
BAMN was part of a group that engaged in a counter-protest last year in Sacramento for a showdown against white nationalists. The counter-protesters attacked the nationalists with water bottles and wooden bats, according to published reports.
Larry Alex Taunton, a cultural commentator and a Fox News contributor, said he sees a potentially dangerous, slippery slope as various factors combine to create – even unwittingly – the impression that violence is a legitimate response when a political leader, party or action is disliked.
Taunton told Fox News that while people on both the left and right may be guilty of declining civility when debating politics, he is particularly alarmed by many liberals' hostility toward Trump and what he depicts as the rage over his winning the election. Taunton has written about the so-called resistence movement, which conjures up a message of rejecting him as the elected president and creating an atmosphere that encourages a rising up.
"Gone are the days when the losing party went quietly exited the stage and recognized their defeat," Taunton said, "and made some semblance of cooperation with the president, whoever that was, and regrouped and tried to win the next election."
"You [end up with] plays that celebrate the assassination of the president, or a comedienne making light of assassinating the president. The whole resistance movement is encouraging these kinds of attitudes that seem to imply violence toward the president and those who support his agenda."
Recent left-wing violence at Washington state's Evergreen State College worries experts on political extremism.
"This is a dangerous game; people are going to die. No one's died yet, but it's just a matter of time," J.J. McNabb, of George Washington University, said, adding that Antifa shouldn't get a pass on their violence just because they oppose white supremacists.
"These guys [white supremicists] are odious, [but] attack them with words. Don't come in with sticks and nails in them," she said.
Alt-left groups also take aim at Democrats they feel are too elitist, or too loyal to the party establishment. They were vocal critics of Hillary Clinton during her presidential campaign, and often assailed President Barack Obama.
This year, they were linked to vandalism during Trump's inauguration ceremonies and vandalism at an otherwise peaceful protest against conservative writer Milo Yiannopoulos's planned speech at University of California, Berkeley.
Last week's attack on Republicans prompted many lawmakers to call for a timeout on incendiary rhetoric that could provoke the worst instincts in some.
Bill Mitchell, a pro-Trump radio host, tweeted: "The Left in this country is ushering in a new #CultureOfViolence where violent hate is the new normal. #DomesticTerrorists," he added in a follow-up tweet.