After arrest of suspected Golden State Killer, DNA technology may help catch Zodiac Killer
The DNA sleuthing from a genealogy website that helped authorities catch the infamous Golden State Killer last month may now be used to track down another elusive California criminal: the Zodiac Killer.
Joseph James DeAngelo, who authorities suspect is responsible for at least a dozen murders and 50 rapes in the 1970s and 80s, was arrested more than three decades after the last killing with the help of information from an online genealogical site.
Investigators haven't disclosed many key elements in the steps they took to find the 72-year-old suspect, but the same type work could find the Zodiac Killer, who terrorized Northern California from December 1968 to October 1969, experts say.
"It is possible," Pam Hofsass, a former San Francisco homicide detective who worked on the Zodiac case and now runs the forensic lab for the Contra Costa County Sheriff's Office, told the Sacramento Bee. "It's totally worth looking at, and I hope with all of the news and revelations about the Golden State Killer that it will kind of be the impetus for the Zodiac."
GOLDEN STATE KILLER EYED IN 1978 MURDERS OF WOMAN AND HER 4-YEAR-OLD SON: POLICE
During the Zodiac's violent killing spree, seven people were attacked, five of whom died, in Benicia, Vallejo, Lake Berryessa and San Francisco. The Zodiac claimed many more killings through letters sent to media and law enforcement during that time.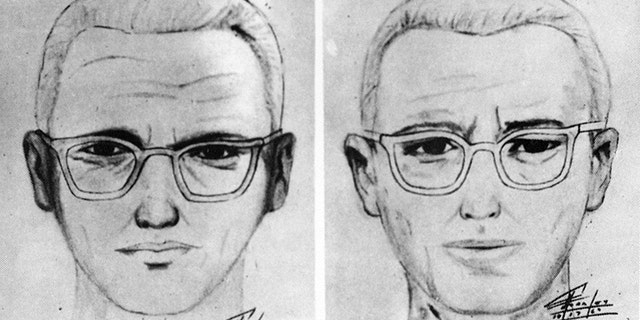 Forensics experts have previously tried running a partial DNA sample from the surface of a stamp of a Zodiac letter with the DNA profiles of three men who were rumored suspects, but they were unable to find a match, according to the Bee.
Retired Vallejo Police Lt. Jim Jaksch, who investigated the Zodiac murders, told FOX40 that evidence collected at the time of the Zodiac killings may not be as conclusive as what led authorities to the suspected serial killer last week.
"The problem with the Zodiac case is there's not a clean genetic sample. I found that much of it was not packaged correctly," he said. "It was packaged correctly for the time, but not for current standards. A lot of evidence we have is deteriorated."
DNA LINK TO GOLDEN STATE KILLER RAISES QUESTIONS OF PRIVACY VERSUS SAFETY
But for Tom Voigt, who runs the website zodiackiller.com, a DNA sample taken from saliva that might be on one of those envelopes may be able to provide authorities with what they need to find the killer.
"I think Zodiac was definitely licking his own stamps and envelopes," he told the Sac Bee. "You just need to get the evidence, get it to the lab. Just copy what was done with the Golden State Killer."