Accused New Jersey bank robber done in by bright-green handbag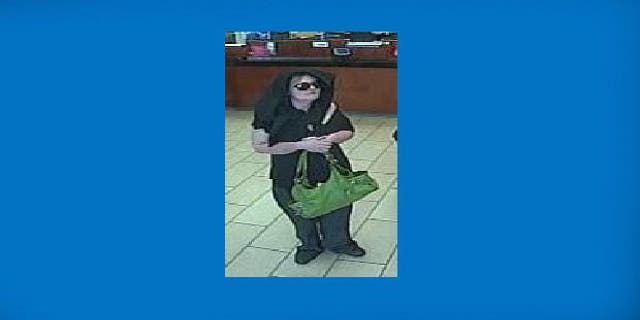 HAMILTON TOWNSHIP – Police in Mercer County arrested a Chesterfield woman who they believe robbed three banks, including one in Willingboro, armed only with a bright-green handbag and a demand note.
Josephine Sari, 42, was arrested Sunday.
Several tips came in after police released photos showing a middle-age woman dressed in black with a head scarf demanding money from tellers at banks Friday and Saturday morning, police Capt. James Stevens said.
Police in Willingboro said they are preparing to charge Sari in the Friday robbery of the Wells Fargo at Route 130 near Charleston Road. Sari fled from the bank after allegedly receiving an unspecified amount of cash from a teller.
Sari will also be charged for attempting to rob a store, Willingboro police Lt. Christopher Vetter said.
She is being held on $200,000 cash bail. No one answered the phone at her home Monday morning.