8 U.S. Army Soldiers Charged in Death of Fellow Serviceman in Afghanistan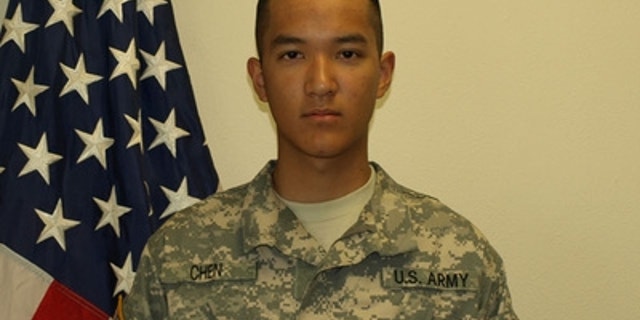 NEWYou can now listen to Fox News articles!
Eight U.S. soldiers deployed to southern Afghanistan have been charged in connection with the shooting death of a fellow soldier, the Army announced Wednesday.
Pvt. Danny Chen, 19, was found dead in a guard tower in Kandahar province in October with an apparent self-inflicted gunshot wound, officials said.
It was first believed that he may have committed suicide, but an investigation by the military revealed that Chen, an Asian-American from New York City's Chinatown, was the victim of harassment and ethnic slurs by his fellow soldiers.
During a news conference Wednesday with Chen's family, New York Rep. Nydia Velazquez said soldiers called Chen "Jackie Chen" in a derisive accent. She said Chen was dragged across a floor, had stones thrown at the back of his head and was forced to hold liquid in his mouth while upside down as part of apparent hazing.
According to an Army press release, First Lt. Daniel J. Schwartz, Staff Sgt. Blaine G. Dugas, Staff Sgt. Andrew J. Van Bockel, Sgt. Adam M. Holcomb, Sgt. Jeffrey T. Hurst, Spc. Thomas P. Curtis, Spc. Ryan J. Offutt and Sgt. Travis F. Carden, all of C Co., 3rd Battalion, 21st Infantry Regiment, 1st Stryker Brigade Combat Team, 25th Infantry Division, were charged in connection with Chen's death.
Five of the eight soldiers have been charged with negligent homicide and involuntary manslaughter. Other charges against the soldiers include making a false official statement, dereliction of duty and assault consummated by battery.
The soldiers remain in Afghanistan but have been removed from their duty positions and sent to a different base. They are under increased supervision.
Chen's family told the news conference they were encouraged by the charges.
"We realize that Danny will never return, but it gives us some hope," said Yen Tao Chen, his father, speaking through a translator.
Chen enlisted in January and was assigned to the 3rd Battalion, 21st Infantry Regiment, 1st Stryker Brigade Combat Team, 25th Infantry Division, Fort Wainwright, Alaska. He was reportedly found dead on Oct. 3 with a gunshot wound below his chin.
The charges come after hundreds of protesters marched in lower Manhattan last week, demanding answers in the investigation into Chen's death.
The Associated Press contributed to this report.