7 women who say they're victims of sexual assaults file suit against UConn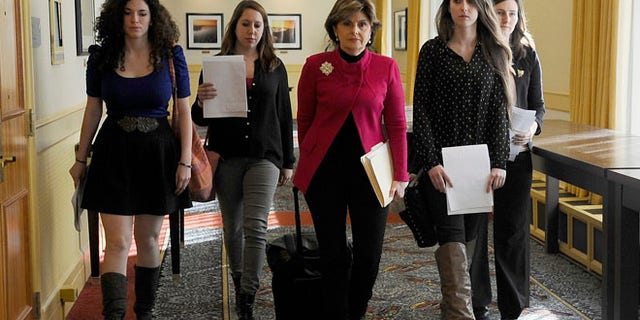 NEWYou can now listen to Fox News articles!
Seven women who say they were victims of sexual assaults while students at the University of Connecticut have filed a federal discrimination complaint against the school.
Attorney Gloria Allred says Monday's complaint to the U.S. Department of Education's Office for Civil Rights alleges the school failed to do enough in response to the women's allegations, treating them with indifference or worse.
"They (the students) have joined the ranks of women at many universities across the country that have chosen to fight back," Allred said, according to CTNow.com. Allred was joined by four of the seven women named in the lawsuit, including Kylie Angell, who graduated in May.
Angell said she was raped and the school told her that the alleged perpetrator was allowed back into the school after being found guilty of sexual misconduct, the paper reported. "I was then met by heckling from his friend, who shouted at me that the perpetrator 'was back,'" she said, according to the report.
"I was upset that the administration had kept the findings the same but changed the sanction and readmitted my rapist," Angell said. "I was told that the UConn employee assigned to notify me that the rapist was back on campus had forgotten to do so."
One woman says a university police officer told her that women need to "stop spreading their legs like peanut butter."
The women are asking for an investigation under the federal Title IX law, which protects students from sexual discrimination in any education program that receives federal aid.
The school issued a statement saying it takes sexual assault allegations extremely seriously and believes the women's cases were handled appropriately. The university said it is willing to provide details of its response to the specific case.
The Associated Press contributed to this report