7 tigers, 6 lions and a leopard found in Arkansas barn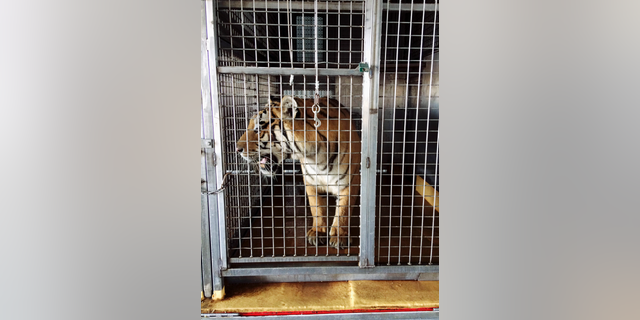 NEWYou can now listen to Fox News articles!
WEINER, Ark. – An Arkansas Game and Fish Commission spokesman says authorities are investigating the discovery of tigers, lions and a leopard in a barn in Arkansas.
Spokesman Randy Zellers said that seven tigers, six lions and one leopard were discovered Saturday in Poinsett County in cages.
Zeller said the Poinsett County Sheriff's Department went to the scene after receiving an anonymous tip. The exotic animals were found with their owner and in good health.
Zellers said the animals' owner, a man from England, was keeping them until they could be flown to Germany. He said the man possessed the appropriate paperwork for ownership of the animals. Zeller said the man didn't alert the county that he would be temporarily holding the animals in Arkansas.
State law generally prohibits ownership of such animals with some exemptions, including accredited zoos and people with annual permits that obtained the animal years ago.
According to the Arkansas Code of Regulations, bringing such animals to the state is restricted for without prior written approval from the commission.
Zeller said the commission is still reviewing the origin of the animals. He said no arrests have been made in connection with the discovery.
Arkansas Game and Fish Commission Maj. Brad Young said wildlife officers will be at the barn to ensure the animals remain contained.
"Our number one priority is to ensure the safety of the citizens of Poinsett County," said Young. "The owner of the animals is with them on-site, and the animals are being taken care of. We just want to make sure they remain secure throughout their time in Arkansas."
___
AP journalists Andrew DeMillo and Jill Bleed in Little Rock contributed to this story.