7 Missouri River govs ask for better flood control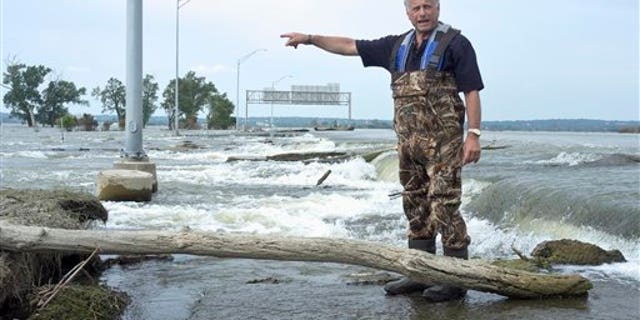 OMAHA, Neb. – Governors from seven states hit by this year's historic Missouri River overflow pledged Friday to work together for the first time to convince the U.S. Army Corps of Engineers to make flood control its top priority for the nation's longest river.
The top executives from seven states signed a letter during a private meeting in Omaha that asks the federal agency to review its river management practices and make recommendations to improve flood control. The corps manages the 2,341-mile-long river, which flows from Montana, through North Dakota, South Dakota, Wyoming, Nebraska, Kansas, Iowa and Missouri.
Montana Gov. Brian Schweitzer opted not to attend. He told The Associated Press that he felt the gathering was tilted in favor of downriver states that want to focus solely on flood mitigation and navigation, at the expense of recreation and wildlife.
He also refused to sign the letter, saying: "You would have to knock me down, tie me up, kick me and have a big dog bite me. I still wouldn't sign it."
Governors and corps officials gathered Friday to discuss ways to avoid a repeat of this year's flooding that submerged thousands of acres of farmland, forced residents from their homes and rerouted trains and motorists. Some cities, including Omaha, spent millions of dollars trying to protect airports, water treatment plants and other facilities from the rising waters.
Kansas Gov. Sam Brownback acknowledged that upstream and downstream states often clash about river management, but he said this year's floods convinced most to join forces and push for flood control.
"It doesn't mean other things aren't significant. But this is primary," Brownback said.
Iowa Gov. Terry Branstad wants river data collected independently of the corps, "to really evaluate what happened, so we're confident in the data as we move forward and as we look at lessons learned," said Lt. Gov. Kim Reynolds, who represented the governor at the meeting.
The governors said the flood-prevention measures would likely entail rebuilt levees, advance warning systems and better coordination among states and the corps.
North Dakota Gov. Jack Dalrymple said his interests are aligned with downstream states and supports lowering the water volume at Garrison Dam, even though the Bismarck dam is "one of the biggest beneficiaries of flood control" on the river.
The Missouri River has been overflowing for months because of heavy Rocky Mountain snowpack and a rainy spring. Flood experts have warned that broader, long-term flood prevention will require economic sacrifices from individual states and a new approach to controlling the river.
Schweitzer said he decided Thursday not to attend the meeting, partly because of ongoing Montana forest fires and because he's frustrated with downriver governors' focus. The Montana governor said the corps often releases too much water from the Fort Peck Dam in northeastern Montana to "float some boats" in Midwestern states, which threatens the development of the pallid sturgeon fish and other endangered species important to his state.
Schweitzer said he also objected to the decision to close the meeting to the press. The governor said he had prepared a PowerPoint presentation to show how Montana was able to anticipate flood levels months in advance, but was told he could not show it at the gathering.
Nebraska Gov. Dave Heineman, who organized the meeting, said he respected Schweitzer's opinion but disagreed.
"He could have been here today," Heineman said. "I wish he would have been here. But we (seven governors) are united."
The Missouri River ran largely untamed until the 1950s, when dams were built as part of a nationwide effort to control and harness the power of waterways. The U.S. Army Corps of Engineers was entrusted with maintaining the river, from flood control and irrigation to power generation and wildlife preservation.
The agency now controls six dams along the river, from Montana's Fort Peck to Gavins Point in southeast South Dakota.
Holding less water in those upstream dams would mean less water for boating and fishing in upriver states, and fewer reserves during summer dry periods. That could be hard for wildlife, worsen dry-year drought conditions in Kansas and Nebraska, severely limit barge traffic and reduce hydropower generation, said Tim Cowman, director of the Vermillion, S.D.-based Missouri River Institute, which studies the river basin.
Farming advocates say their industry has taken a backseat and want levees repaired to protect farmland. Iowa farmer Leo Ettleman, spokesman for Farmers for Responsible River Management, said Thursday that flooding this year ruined more than two-thirds of the 2,300 acres he farms with his son.
"The entire system was built for flood control," he said. "Fish and wildlife issues have really dominated the scene in recent years. Agriculture didn't have a big enough voice. This recreation stuff is great, but there's got to be a happy medium here."