54 illegal immigrants found in truck near San Antonio airport
Dozens of illegal immigrants, including some children, were discovered in a tractor-trailer Tuesday night near the San Antonio International Airport, officials said.
Authorities were called to the North Side neighborhood around 8:30 p.m. and found 54 people inside the truck who are suspected of entering the country illegally.
Immigration and Customs Enforcement (ICE) Special Agent in Charge Shane Folden told reporters Wednesday that the people in the truck were originally from Mexico, Guatelmala, El Salvador and Brazil. Folden confirmed that five people had been taken to a local hospital and four of them had been released.
San Antonio Fire Department Chief Charles Hood told reporters late Tuesday that the five suffered minor injuries jumping from the truck or attempting to flee the area.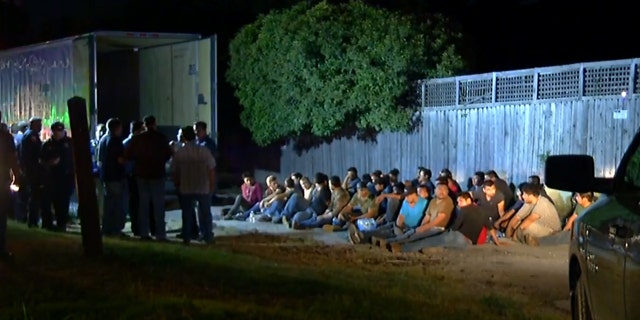 "This truck was air-conditioned, thank God," Hood told reporters. "This truck had water. So they were hydrated."
Folden added that a 36-year-old Laredo, Texas man had been arrested and was expected to be charged with federal human smuggling violations.
"These criminal organizations are comprised of extremely callous individuals who disregard human life and make large profits on treating humans as a commodity," Folden said. "Many times they are able to accomplish this because the individual smuggler knows that the individuals being smuggled won't seek out law enforcement."
Last July, 10 people died as they were smuggled through Texas when 39 immigrants were found packed into a semitrailer in the parking lot of a San Antonio Walmart. The driver, 61-year-old James Matthew Bradley Jr., was sentenced to life in prison in April after pleading guilty to a county of transporting immigrants resulting in death, and a conspiracy count.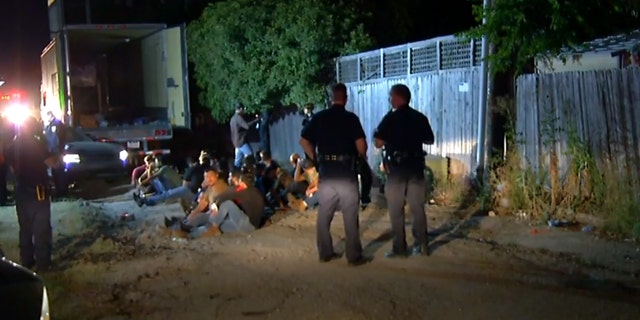 "This is a totally different outcome than we had several months before," Hood said Tuesday.
TEXAS BORDER PATROL AGENTS FIND 6 ILLEGAL IMMIGRANTS TRAPPED INSIDE CABINETS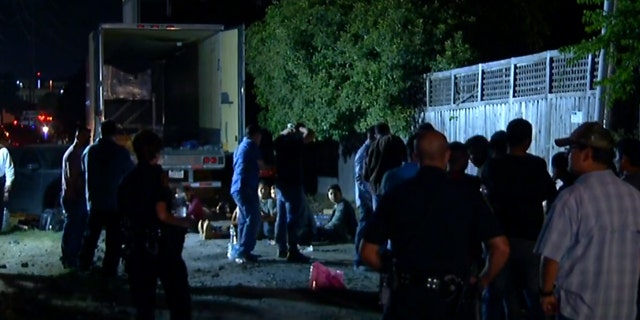 The incident in San Antonio came less than a month after 86 people were discovered inside a tractor-trailer about 45 miles north of the border with Mexico "concealed behind some rotten produce."
Southern Texas is the location of some of the largest trade and transportation ports along the U.S.-Mexico border tractor-trailers move goods between the two countries. Truck drivers, usually U.S. citizens, are paid a fee per person they smuggle across the border in their trailers.
Folden told reporters that the immigrants were being interviewed by U.S. authorities. He would not say whether any of them might be allowed to remain in America.
"At the end of the day, you can't put a price on human life," he said. "So we ask that those wishing to enter the United States illegally think twice about making that decision.
Fox News' Lucia Suarez contributed to this report.