50,000 American Flags Now Allowed at Massachusetts National Cemetery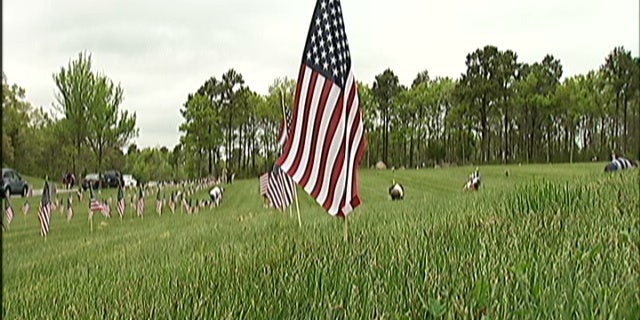 NEWYou can now listen to Fox News articles!
Hundreds of volunteers have traveled to Bourne, Mass., to plant 50,000 flags at a military veterans cemetery that until now has forbidden flags on the markers, MyFoxBoston reports.
The effort Saturday at the Massachusetts National Cemetery was organized by the family of Army Sgt. 1st Class Jared Monti, a Medal of Honor recipient killed in Afghanistan in 2006.
Monti's aunt, Fran Monti-Harring, told the Cape Cod Times the family wanted to see a flag on her nephew's grave, and it seemed fitting to also honor all the veterans.
The cemetery had only displayed flags along the road entering the grounds, but not near flat markers, for maintenance purposes. But now, under the new agreement, the flags can be placed at markers on Memorial Day and Veterans Day, and removed a week later.
Click here for more Memorial Day stories from Foxnews.com.