50 injured in tour bus crash on California freeway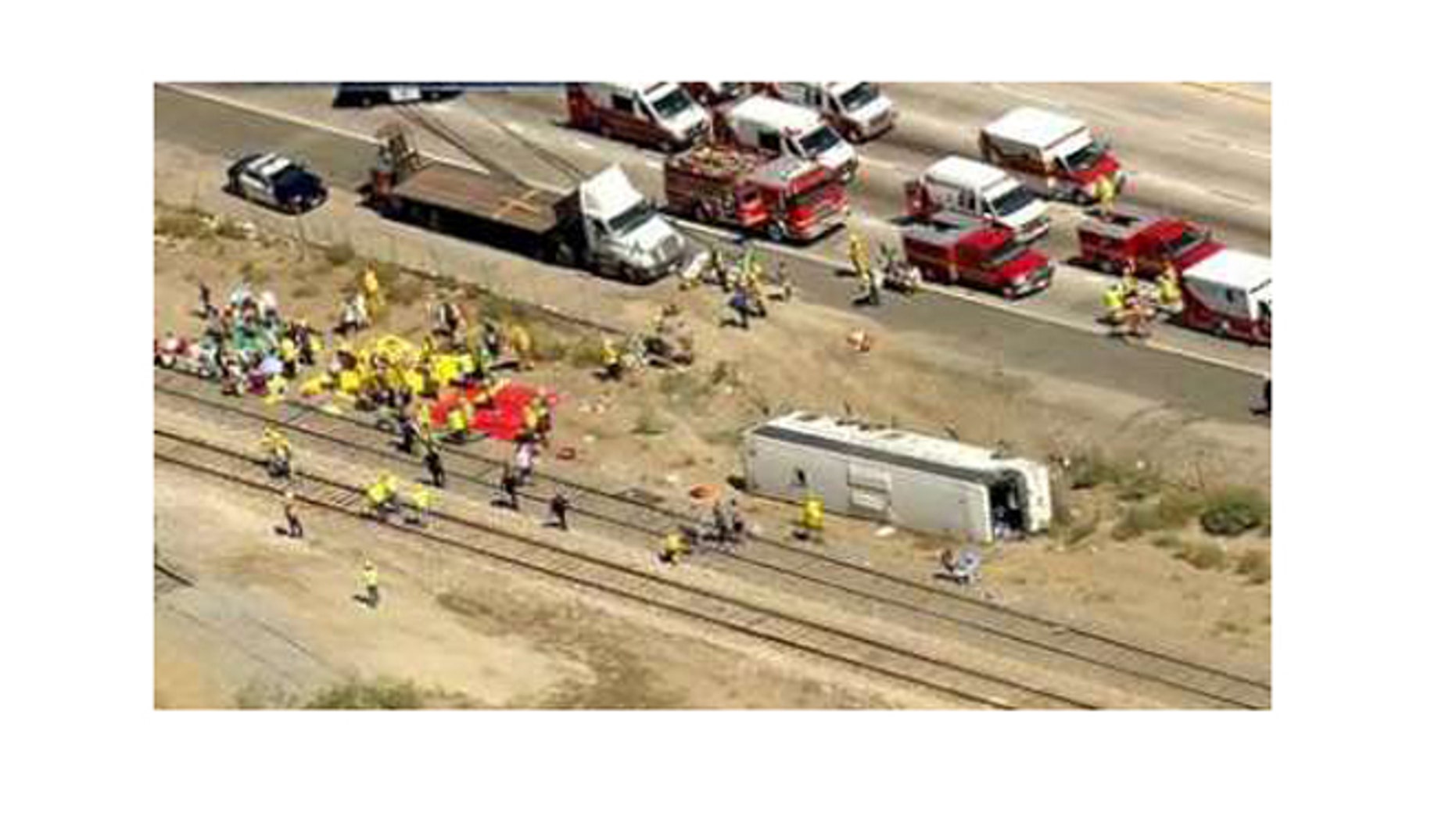 A tour bus carrying gamblers to an Indian casino overturned on a California freeway, injuring 50 people on board, Los Angeles County fire officials said.
The bus went off the side of Interstate 210 around 10 a.m. and ended up on its side in dirt between the freeway and railroad tracks.
Ambulances and helicopters converged on the freeway in eastern Los Angeles County and firefighters laid out red, yellow and green tarps to evaluate the injured.
Fifty people received minor injuries, including nine that were taken to hospitals for evaluation or treatment, said Cheryl Sims, a dispatch supervisor with the county Fire Department.
At least five were flown by helicopters to trauma centers, fire Supervisor Ed Jacobs said.
TV news reports showed several people strapped to gurneys and being carried away.
The white bus, its front window knocked out, lay on its right side. Long skid marks led across three freeway lanes toward the bus. Weather was clear and dry.
A big rig was also at the scene, although it is not clear if it was involved in the accident, MyFoxLA.com reported.
The bus was from Da Zhen Travel Agency in the Los Angeles suburb of Monterey Park. It was heading to the San Manuel Indian Bingo and Casino in Highland, said Anna Zhang, an agency employee.
That large casino complex is about 40 miles east of the crash.
Interstate 210 is a commonly used foothill route to inland valleys and the desert east of Los Angeles. "Gamblers' specials" many catering to senior citizens, frequently use it to bus tourists between the San Gabriel Valley and casinos in California and Las Vegas.
The Associated Press contributed to this report.