Texas man left cryptic Facebook messages hours before family found dead of apparent gunshot wounds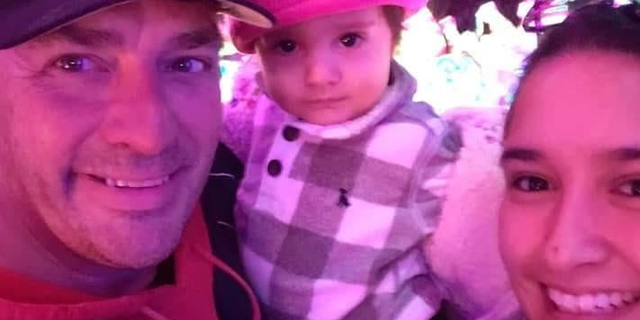 At least five Texas family members -- including a 1-year-old girl -- were found dead inside a home Monday.
When authorities arrived at the grandparents' Blanchard home, they discovered the bodies of a Randy Horn, his 27-year-old wife Ashley Delaney, the couple's infant daughter, Ranley, and Delaney's grandparents, Carlos and Linda Delaney, ages 74 and 72, according to KHOU.
The Daily Mail reported that Horn was spotted at a sports bar hours before the shooting where staff and regulars said he appeared unusually withdrawn.
While sitting at the bar, Horn reportedly posted a cryptic message which read: "It's time to pay up for all the bad Decisions you made in life...never bet your life on someone because you never know..." He later shared a picture of the bar's floor splotched with blood with a caption that read: "And this is why i can't be out in the bars at night...blood on the floor!"
A bartender told The Daily Mail that Horn was at the bar from 1:30 p.m. to 10 p.m., left for about two hours, then briefly returned to order one more drinking before leaving around 12:30 a.m. the next morning. She said he had been on his phone for most of the day, which was unusual for him.
MISSOURI NURSE ACCUSED OF FATALLY POISONING HUSBAND TO MARRY KILLER SERVING LIFE SENTENCE
Authorities said Carlos Delaney and Randy Horn were found inside the house while Lynda and Ashley Delaney were found outside the house with the infant girl. Multiple firearms were also found at the scene, authorities said.
"This is a horrible, horrific scene," Chief Deputy Byron Lyons told reporters.
Ashley Delaney's mother was found safe and locked in a bedroom closet when authorities arrived, KPRC-TV reported. She told investigators that she awoke around 5:30 a.m. Monday to a disturbance described as popping noises. She called her son, who alerted authorities around 10:30 a.m. Authorities said she is not considered a suspect.
CLICK HERE TO GET THE FOX NEWS APP
A friend of Lynda and Carlos Delaney told The Daily Mail that Horn and Ashley Delaney had been married for "three or four years," but Delaney was planning on leaving Horn.
Multiple agencies are investigating what led to the shooting. The family's Blanchard home is about 75 miles northeast of Houston. No additional information was immediately available.
The Associated Press contributed to this report.