5 dead in vacant building fire in Los Angeles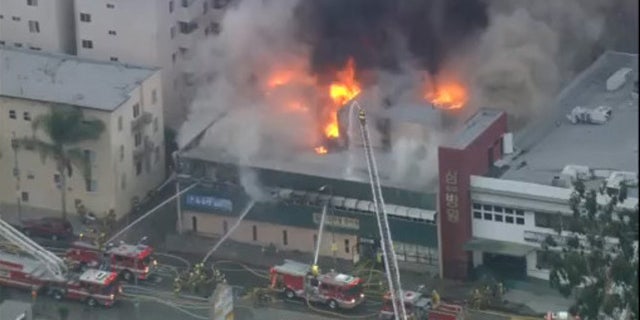 NEWYou can now listen to Fox News articles!
The bodies of two men and two women were found Tuesday as firefighters searched a burned out two-story vacant office building near downtown Los Angeles, bringing the death count in the blaze to five.
One man was declared dead at the scene while the blaze was still burning on Monday night.
The Fire Department said that all five of the dead appeared to be homeless.
Los Angeles police arrested a homeless man on suspicion of murder for intentionally starting a fire with the intent of killing at least one person.
Billy Hayes, commanding officer of LAPD Robbery-Homicide, said Tuesday that 21-year-old Johnny Sanchez was among a group of homeless people who had been living in the building and was in a dispute with the others.
Los Angeles Fire Department spokesman Brian Humphrey said the blaze broke out at approximately 7 p.m. local time in the Westlake section of the city, Fox 11 reported.
Approximately 145 firefighters battled the blaze, which was declared a major emergency. Humphrey told reporters that firefighters had to assume a defensive posture due to the intensity of the blaze.
Firefighters rescued three people from the building during the fire.
The building was officially vacant, but neighbors say they saw homeless people coming and going from there.
Click for more from FoxLA.com.
The Associated Press contributed to this report.