5 arrested in Paris after wired explosives found in posh neighborhood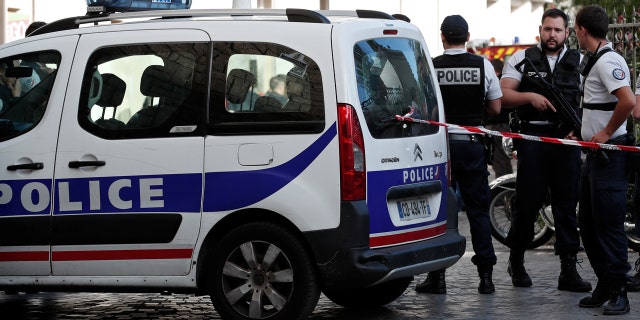 Five people were arrested Monday after authorities found an apparent ready-to-detonate bomb in a chic Paris neighborhood the same weekend as a deadly stabbing at a train station in southern France.
A neighbor alerted authorities to suspicious activity early Saturday in the apartment building in the affluent 16th district of western Paris, Paris police said.
The man was woken up by a noise and a very strong smell of gasoline and discovered a device made of gas cylinder in his hallway, Le Point newspaper reported.
A firing device, made with a mobile phone and connected to several wires, had been attached to these cylinders, law enforcement sources told Le Point.
"This device was perfectly made," a source close to the case told the newspaper.
A separate judicial official told the Associated Press an explosive device was found and deactivated, adding counterterrorism prosecutors opened an investigation.
One of the suspects being held for questioning was already under government surveillance for radicalism, Interior Minister Gerard Collomb said Tuesday on France Inter radio.
When asked to explain how someone under surveillance could carry out an attempted attack undetected, Collomb said radicals usually have "friends, networks that can carry out the act," people who don't show outward signs of radicalization "but are ready to help."
He said the failed bombing shows that the threat against France remains "extremely big."
"Blowing up a building in a chic neighborhood of Paris — is this not a sign that no one is safe? This doesn't happen just in suburbs in working class neighborhoods," he said.
Early last month, an explosives-making workshop was discovered in the southern Paris suburb of Villejuif, according to Le Monde.
The failed bombing came the same weekend a man slit the throat of one woman at a train station in Marseilles before killing her cousin. He was later shot dead by soldiers. Officials have opened a probe as to why the man was briefly detained by police the day before the attack in the city of Lyon, and then released.
Politicians in France are set to vote later Tuesday on a new counter-terror law designed to end the country's two-year state of emergency.
Authorities would be able to place people under house arrest, order house searches and ban public gatherings without needing the prior approval of a judge.
The country has been under a state of emergency since the Islamist attacks in Paris in November 2015, which killed 130 people and left more than 400 injured.
The Associated Press contributed to this report.