400-pound alligator moved from Texas pond to preserve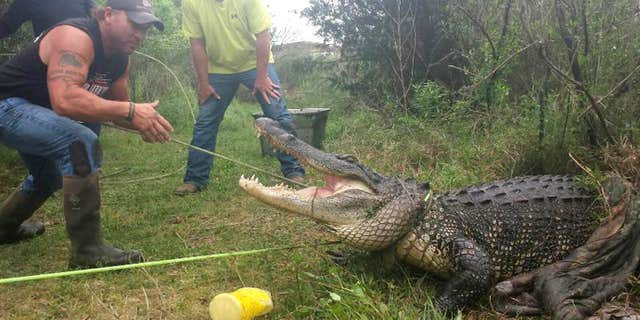 NEWYou can now listen to Fox News articles!
A 400-pound alligator has found a new home after being hauled out of a Texas pond.
Gator Country preserve owner Gary Saurage said Tuesday that the large reptile will join more than 400 alligators at a preserve that caters to gators in Beaumont, Texas.
Saurage wrangled the animal after a landowner called about the aggressive animal that was swimming in a rural pond where children play.
Saurage removed the male alligator from the swampy land with a rope. He estimates the alligator is between 35 and 40 years old. Saurage said the reptile is healthy and he's happy to give the "majestic animal" a new home.
Beyond alligators, Gator Country features a whole crew of different reptiles. The preserve has a few different types of pythons, lizards and even tortoises.
The Associated Press contributed to this report.