4 plead not guilty to charges in fiery NY crash that killed 2 children, their father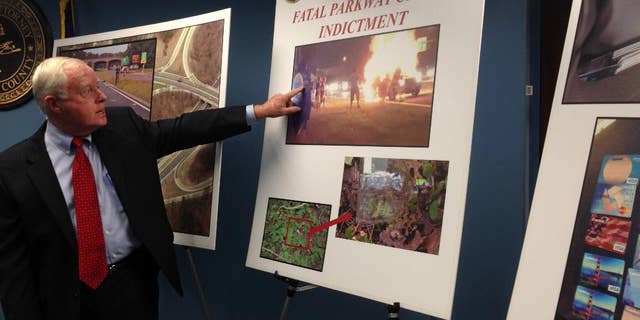 NEWYou can now listen to Fox News articles!
CENTRAL ISLIP, N.Y. – A high-speed race along a suburban New York parkway led to a crash that ended in the fiery deaths of a father and his two children, prompting authorities to indict one of the drivers on vehicular homicide, drunken driving and other charges — and three others with various crimes including helping that driver flee the scene.
Oniel Sharpe Jr. of Queens entered not guilty pleas through his attorney Thursday to a 41-count indictment in a Long Island courtroom. Prosecutors say Sharpe, 24, was intoxicated and driving at speeds over 100 mph on July 12 before his vehicle slammed into the rear of a car carrying a family of four. The impact of the crash caused the family's vehicle to burst into flames, Suffolk County District Attorney Thomas Spota said.
Sharpe and several friends ignored the pleas for help from the lone survivor of the family's vehicle, Lucnie Bouaz-Ostane as her husband, Ancio Ostane, and their children 8-year-old Andy and 4-year-old Sephora, were consumed by flames, the prosecutor said.
"At the time when dying people needed help the most, the defendants, some of them, literally stood by watching the Ostane family — children and dad — perish," Spota said.
Prosecutors contend Sharpe had been at a party in Brentwood with several friends. They were driving back to New York City on the Southern State Parkway after 1 a.m. in three separate vehicles when two of the cars — Sharpe's and a car driven by Sheon Richards, 25, of Queens, began driving fast through traffic, Spota said. Sharpe was attempting to catch up with Richards' vehicle when he collided with the rear of the Ostanes' car, prosecutors said.
Spota said Sharpe's estimated speed at impact was between 70 and 75 mph, but said witnesses said he was driving much faster before the crash.
Richards pleaded not guilty to reckless driving and other charges. His attorney noted that Richards returned to the crash scene and did not try to flee.
Sharpe's attorney, Jonathan Manley, disputed allegations that his client refused to help the family, and also denied the prosecutor's claims that his client was intoxicated at the time.
Spota said Sharpe, who allegedly fled the scene and was arrested about four hours later, had a blood-alcohol reading of 0.06, which is below the legal definition of 0.08 required for a driving-while-intoxicated charge. But Spota said a legal theory of "retrograde extrapolation" is being used to estimate that at the actual time of the crash, Sharpe's blood-alcohol reading was 0.12.
Manley insisted his client would eventually be cleared of the DWI charge once all the circumstances of the case are revealed.
Prosecutors also charged Demetri Stewart, 23, of Queens, with criminal facilitation, leaving the scene of an accident and other crimes. Stewart was in his own vehicle and stopped at the crash scene, where he allegedly spirited away Sharpe and others in his car. Stewart's attorney pleaded not guilty on his client's behalf.
"My client is not the cause of this accident," attorney Jeffrey Cohen said at the arraignment.
Prosecutors also claim investigators found 23 fraudulent credit cards hidden in a compartment in Sharpe's vehicle after the crash. Sharpe's cousin, Courtney Sharpe, pleaded not guilty to charges related to the alleged fraudulent credit card scheme.