4 injured in banister collapse at New York City building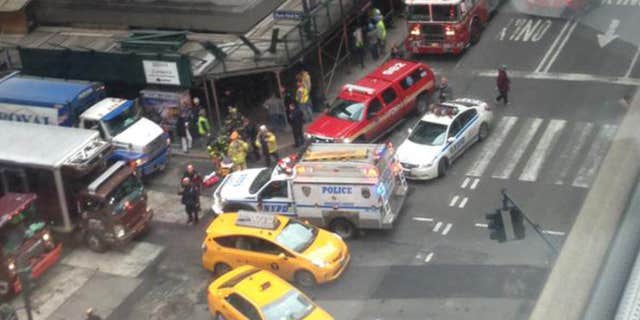 NEW YORK – Four construction workers were hurt Tuesday at a building being demolished near Grand Central Terminal when an interior marble banister collapsed and they tumbled to the ground floor, authorities and the building owner said.
The men were taken to Bellevue Hospital Center after the accident at about 10 a.m. Tuesday, a fire department spokesman said. They were in stable condition.
Richard Wilde, a citywide coordinator for the city's Office of Emergency Management, said the Art Deco building on Madison Avenue is being gutted in preparation for total demolition. The building is a block west of the terminal. City officials reported earlier that a wall at the mezzanine level had collapsed and fallen on the men.
The owner of the 14-story building, SL Green Realty Corp., said the workers were removing a massive chandelier when the banister gave way and they fell about 15 feet.
SL Green Realty said there was a licensed safety manager at the building.
The city Department of Buildings issued a stop work order while the accident is under investigation.
Waldorf Demolition is the contractor, with Tishman Construction as the construction manager, SL Green Realty said in a statement.