3 US Army soldiers hurt during training exercise at Homestead Air Reserve Base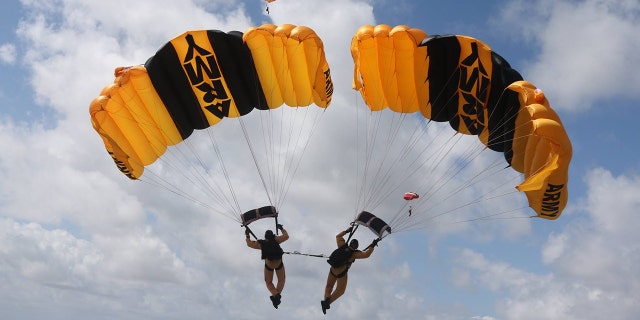 Three U.S. Army soldiers were injured and rushed to the hospital early Tuesday after a night training accident at Homestead Air Reserve Base near Miami, officials said.
The soldiers, who were not identified, are a part of the Golden Knights – the Fort Bragg-based Army parachute team – and were conducting a HALO jump, base officials told WSVN-TV. The HALO jump requires soldiers to free fall from high altitudes before deploying a parachute.
ARMY MAJOR MATTHEW GOLSTEYN DEFENDS HIMSELF AFTER US CHARGES HIM IN SUSPECTED TALIBAN BOMB MAKER'S DEATH
The soldiers were conducting a training mission, Donna Dixon, a base spokeswoman, told The Associated Press. She said the injured soldiers were "medevaced" to Jackson Memorial Hospital's Ryder Trauma Center in Miami for treatment.
CLICK HERE TO GET THE FOX NEWS APP
Dixon said the conditions of the soldiers wouldn't be released until their families were notified.
No further details of the incident were released.
The Associated Press contributed to this report.